Prax
Daniel Brain has joined Prax as UK General Manager, with responsibility for Retail, Commercial & Industrial, Aviation, Logistics and Terminals businesses.
Commenting on his appointment Daniel said: "It's a huge honour and an amazing opportunity with a super group of people and a quality asset base."
Certas Energy
Alex Wolfe has started a new position as Regional Director for Certas Energy, responsible for Certas Energy customers, colleagues & assets in Greater London, Northamptonshire & East Anglia
Steven Lea has started a new position as UK Operations Manager at Certas Energy Lubricants.
Ryze
Hydrogen pioneer Ryze has appointed three new senior managers. The additions to the team include a new Chief Executive in Neil Isaacson, Ryze's new Managing Director – Infrastructure Delivery, Garry Birmingham, and Service Solutions Director Carl Buckingham.
Oilfast
Oilfast has announced that Jonathan Stewart has joined the business as Group Finance Director.
A spokesperson said: "Jonathan brings a wealth of knowledge and experience, this will be a huge asset as we continue to build our brands across the UK."
Suttons Tankers
Suttons Tankers has recently appointed David Heath as Head of Fuels and Powders.
Essar
Essar Oil (UK) Ltd has announced the appointment of Ramesh Kande as Head of Engineering, Reliability and Maintenance Support and Rajat Mehta as Financial Controller for Essar Oil UK, both operating from the Global Capability Centre (GCC).
CBA
Tim Doggett, CEO of the Chemical Business Association (CBA) has been elected to the Trade Association Forum's (TAF) Board of Directors.
Moorlands Fuels
Mark Bailey has joined Moorlands Fuels as Transport Manager. Bringing with him a wealth of experience, Mark will be supporting the drivers and transport team to keep deliveries running smoothly.
The Solent Cluster
The Solent Cluster, the first major decarbonisation initiative that would substantially reduce CO2 emissions from industry, transport and households across Southern England, has appointed Anne-Marie Mountifield as its Chair.
Fox Insights
Jake Swanson has joined Fox Insights as an International Account Manager and will be working with partners in the UK market to enable them to use the company's telemetry systems to optimise their business processes using data-based decision making.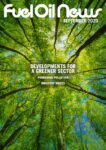 This article originally appeared in the September 2023 issue of Fuel Oil News magazine.
View the magazine