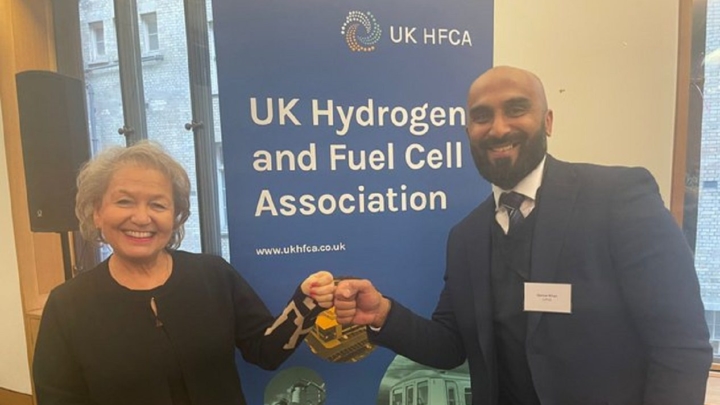 Three key priorities
Businesses across energy, transport and industry joined representatives of the UKHFCA for the 'Seizing the UK's Hydrogen Opportunity' lobby to push the Government on three key priorities for the hydrogen economy on January 17.
These include building sustainable UK supply chains, driving forward hydrogen for transport and minimising red tape.
Celia Greaves, CEO and founder of the UK HFCA, said: "This is not just a moment in time.
"We will continue a process of dialogue, engagement and influence with MPs and the policy community to ensure that hydrogen realises its potential."
Attendees of the lobbying initiative included Shadow Minister for Climate Change and Net Zero Dr Alan Whitehead, Deputy Speaker Dame Rosie Winterton, Conservative MP for Rushcliffe Ruth Edwards, who is a member of the Business, Energy and Industrial Strategy Committee, Conservative MP for Gedling Tom Randall and Shadow Secretary of State for Transport Louise Haigh.
Beneficial support
Dame Rosie Winterton, who was invited by constituency business Clean Power Hydrogen (CPH2), said: "I was incredibly impressed with a visit I had to Clean Power Hydrogen in Doncaster and we are incredibly lucky to have such an innovative company championing the hydrogen agenda.
"I'm thrilled to have been invited to the UK HFCA event."
Qamar Khan, business development manager at CPH2, added: "Having Rosie's support has been very beneficial. We have had companies approach us because of her influence.
"The more companies that get involved in the hydrogen economy, the more it will accelerate and move the sector forward."
Also at the lobby were representatives from the Department for Transport, Department for International Trade and the Department for Business, Energy and Industrial Strategy.
A growing industry
The members of the UK HFCA represent the full hydrogen energy supply chain and all applications and ranging from innovative SMEs through to pure play technology companies and large corporations.
In June, the UK HFCA fronted its first hydrogen conference, opened by Energy Minister Greg Hands who said: "We are developing hydrogen as a source of affordable homegrown power and a growing industry set to create thousands of jobs."
The next conference – The UK Hydrogen Journey to 2030 – will be held on May 24 at the QE2 Centre in London.