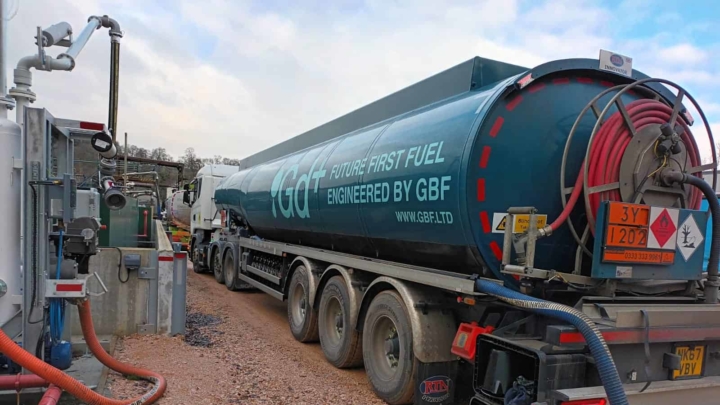 The employee-owned fuel supplier has invested in its tank farm infrastructure to store HVO at the company's head office in Okehampton to provide B2B suppliers, customers, and businesses with a 100% renewable alternative to red and white diesel. The fuel is suitable for use in any diesel engine without prior modifications and reduces emissions by up to 90%. Manufactured from sustainable, renewable feedstocks, the alternative fuel is certified under the UK Renewable Fuel Assurance Scheme and has proof of sustainability from the International Sustainability and Carbon Certification (ISCC).
The cleanest alternative
The Gd+ HVO Fuel, supplied by GBF, is the cleanest alternative diesel on the market, supercharged with an engine-enhancing additive. This additive results in engines running more effectively due to the higher cetane number of 70+ making it more efficient to burn, which considerably reduces the need for additives, such as AdBlue, it also has an excellent cold weather performance down to -35 °C.
With green initiatives high on everyone's agenda and with Devon County Council's goal of reaching net zero 2030, now is the perfect time for businesses to consider the transition to HVO.
Abby Turner, director commented: "Having been a local business within Devon for the past 20 years, it's important to us that we remain true to our roots and support the local area with the transition to a greener future – that's why we have invested in HVO and can now distribute it directly from our depot in Okehampton."
Moorland Fuels is an employee-owned business which supplies the local area with fuel and has been a part of the local landscape for 20 years.