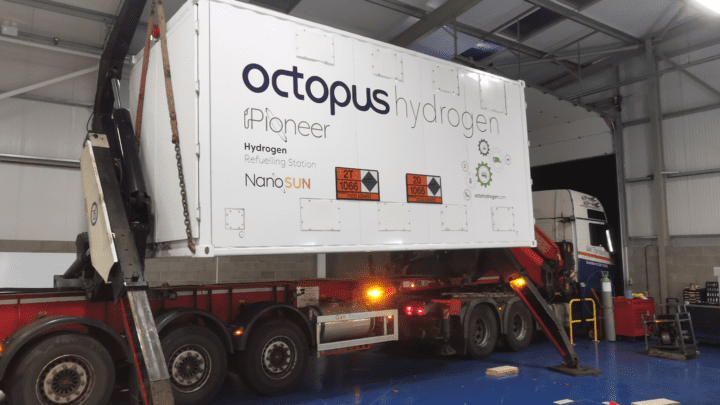 The first series of Pioneer Stations will each be named in honour of a pioneer in the field of Natural Sciences. The first unit is appropriately named after Henry Cavendish, discoverer of hydrogen. Later series will honour pioneers in other fields such as Humanities, Exploration & Sport.
Cost equivalence with diesel
With the launch of these standardised, factory-built Pioneer stations, NanoSUN aims to support energy suppliers in the provision of hydrogen across a range of use cases; knocking down the barriers of expensive refuelling infrastructure and helping to deliver a cost per mile that is equivalent to the costs for diesel power.
Ready for active service, the Henry Cavendish will be delivered to Octopus Hydrogen this November, and will be followed rapidly, before the end of 2022, by the Lord Kelvin, Sir Isaac Newton, Charles Darwin and others, to customers such as Motive Fuels, EMEC, and Westfalen AG.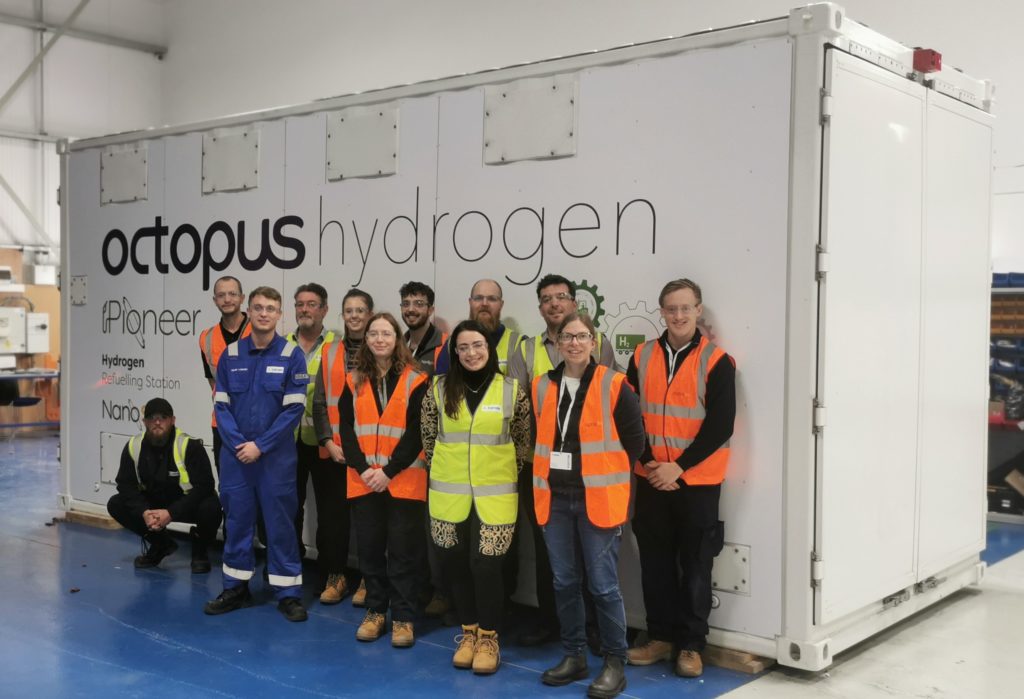 Planned deployments will see Pioneers deliver green hydrogen refuelling for EMEC's HyFlyer II Project, assist Octopus Hydrogen in providing a complete hydrogen service to end users and support Westfalen in meeting the needs of heavy-duty vehicle fleets across Germany.
Addressing the transport decarbonisation challenge
Dean O'Connor, NanoSUN CEO, commented: "The challenge of transitioning heavy-duty transport to a zero carbon future is truly massive. Tens of thousands of refuelling points will be required, across Europe alone, over the coming decades. We believe that it is only by industrialising every part of the hydrogen value chain that this build out will be viable.
Delivery of the first series-production Pioneer Station is a major milestone for us and we could not have reached it without the support of Hydrasun and other manufacturing partners like Orbital Fabrications. Now we look forward to seeing Henry Cavendish and friends out in the real world; playing an integral role in transitioning the transport industry to sustainable energy and bringing attention to the future of hydrogen in on-road and off-road applications."
Neil Thompson, Hydrasun COO, commented: "The system integration work completed by Hydrasun on the Pioneer Stations is a great example how effective collaboration between technology companies such as NanoSUN and a system integrator, Hydrasun, can deliver solutions to meet the demands of the Energy Transition.  We look forward to building on our relationship with NanoSUN and the delivery of many more Pioneer Stations in the future."