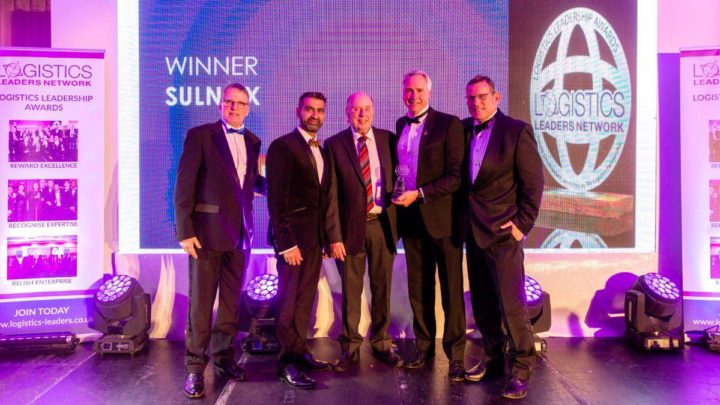 Recognised at the Logistics Leadership Awards for its groundbreaking technologies which reduce fuel consumption, emissions and pollution from fossil and bio-fuels, SulNOx Group had been nominated by members of the industry.
A proven significant difference
The Logistic Leaders Network, which hosted the awards, said SulNOx Group had clearly demonstrated that their products could "make a significant difference to the business of its customers".
Ben Richardson, CEO of SulNOx Group, who collected the award alongside executive director Nawaz Haq, said: "We are absolutely delighted to have been presented with this award. It is all the more heartening because it is presented on merit and driven by data.
"We know that our green technologies can not only save individuals and businesses a great deal of money, they can also significantly reduce the emissions they are pumping out. It may sound too good to be true, but awards like this one show that our claims stack up and that we can do what we say we can.
"It is not just the award itself which is pleasing; it is also incredibly worthwhile to be at events like this where we have logistics players from all parts of supply chains in one place to encourage collaborations, increase operational and technical efficiencies, and form a collective voice to progress industry aims and push for change where required in regulations and policies.
"Almost all logistics operations run on vehicles with internal combustion engines primarily using diesel and this is a situation that is not likely to change significantly for some time, and certainly not by 2030. HGVs and vans are responsible for a staggering 35 million metric tonnes of carbon dioxide equivalent in the UK alone.
"Whilst further developments are required for longer-term solutions, immediate impact is necessary over the short- to medium-term and the only real route is to improve efficiencies to reduce fuel consumption and emissions."
Reduced emissions. Improved efficiency
London-based SulNOx Group specialises in providing responsible solutions towards decarbonisation of liquid hydrocarbon fuels. Through extensive real-world road tests, its all-natural SulNOxEco™ Fuel Conditioners have been proven to reduce fuel consumption around 10% representing significant reductions in greenhouse gases. The technology also reduces the production of particulate matter PM10 and PM2.5. In tests, its products have been shown to reduce PM2.5 by over 60%.
"SulNOx has been scientifically proven to reduce carbon emissions and improve efficiency," said Mr Haq. "It is already being used in the haulage industry, public transportation and in other commercial vehicles.
"Our data shows using SulNOxEco™ in HGVs and LGVs could result in a reduction of 2.8 million metric tons of carbon dioxide equivalent, which would be the same as taking 1.4 million cars off the roads.
"The sort of technology we have developed, and continue to develop, provides an important first step on the road to net zero."
Peter Acton, executive chairman at Logistics Leaders Network said: "Getting more fuel economy out of diesel is something I've been focussed on for several years. The problem with Euro VI is the worsening fuel economy, SulNOx have come up with a solution for this."
Logistic Leaders Network, which reaches around 17,000 logistics personnel across the UK, was founded in 2010 to provide a networking platform for logistics leaders to understand, debate and share views on key strategic supply chain and logistics issues impacting on their business performance.