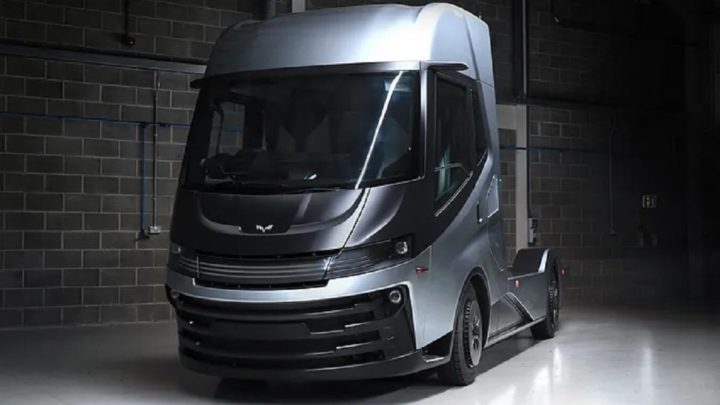 The hydrogen-powered 5.5-tonne demonstrator is an insight into the company's planned 40-tonne HGV, which aims to be the first UK designed and developed hydrogen-electric HGV on the market.
Founded in 2017 in Glasgow, EG Group-backed HVS specialises in ground-up design and creation of hydrogen commercial vehicles and has already secured funding from Innovate UK, Scottish Enterprise and Energy Technology Partnership.
The demonstrator, developed from initial design to full dynamic prototype in just 10 months, showcases some of the technology that will power the planned all-new zero-emission HGV with its unique powertrain and radical cab design.
HGVs are the second largest contributors to UK transport emissions and make up a disproportionate amount of road transport emissions (18%) whilst only contributing 5% of vehicle mileage. With HGV numbers increasing on the roads, this emissions figure is likely to increase and HVS believes its world-leading technology can play a crucial role in allowing emissions reduction targets to be achieved.  
Step change
HVS CEO Jawad Khursheed said: "This technology demonstrator showcases our ground-breaking hydrogen-electric commercial vehicle design and advanced powertrain technology, a precursor to our HGV model.
"Fuelled by close-coupled green hydrogen (hydrogen produced directly by renewable energy sources such as hydro, wind or solar) our zero-emission trucks are a key part of decarbonising the logistics sector. Hydrogen is the perfect fuel for the haulage industry, offering long ranges and quick refuelling thanks to stations easily integrated into key transport networks."
Breaking the mould
HVS tractor units will be built on an all-new chassis, designed in-house around the hydrogen powertrain, which consists of pressurised hydrogen cylinders, fuel cells, energy storage system and eAxle.
Pete Clarke, head of design, brings his wealth of experience designing commercial vehicles to HVS' striking truck designs. The ground-up design brings innovation in packaging, performance, efficiency, weight, range, consumption, maintenance, and lifecycle benefits and allows significantly improved aerodynamics on the demonstrator compared with current ICE trucks.
With enhanced fuel efficiency on long-haul runs and improved spatial ergonomics within the cab, including better access and more room at the controls, the design also offers sector-leading aesthetics.
Jawad speaks confidently of future production: "We will supply our customers with the most advanced HGV in the sector delivering a step change in driving experience, lowest total cost of ownership and market-leading fleet management support."