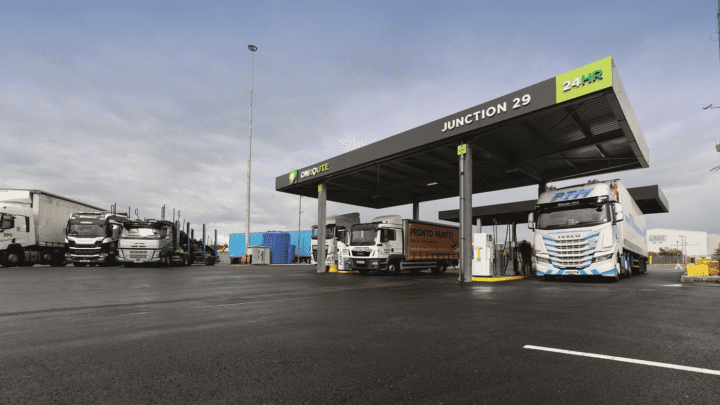 Toby Perkins, MP for Chesterfield, officially opened the new forecourt at a launch event attended by staff, customers, suppliers, local councillors, members of the Road Haulage Association and contractors involved in the design and completion of the works. He stressed the importance of the role HGV drivers play in keeping the nation running and praised the work being done by Onroute Truckstops to improve facilities, drive up standards and safeguard their comfort and safety.
Duncan Buchanan, RHA Policy Director for England, also attended the launch, and commented: "This is a welcome major investment – a 100 percent privately funded vote of confidence in the viability of high-quality lorry parking facilities. We look forward to more investment from Onroute and many others in the future. We need high-quality lorry parking facilities all over the UK; with a shortage of around 11,000 spaces there is a lot more to do."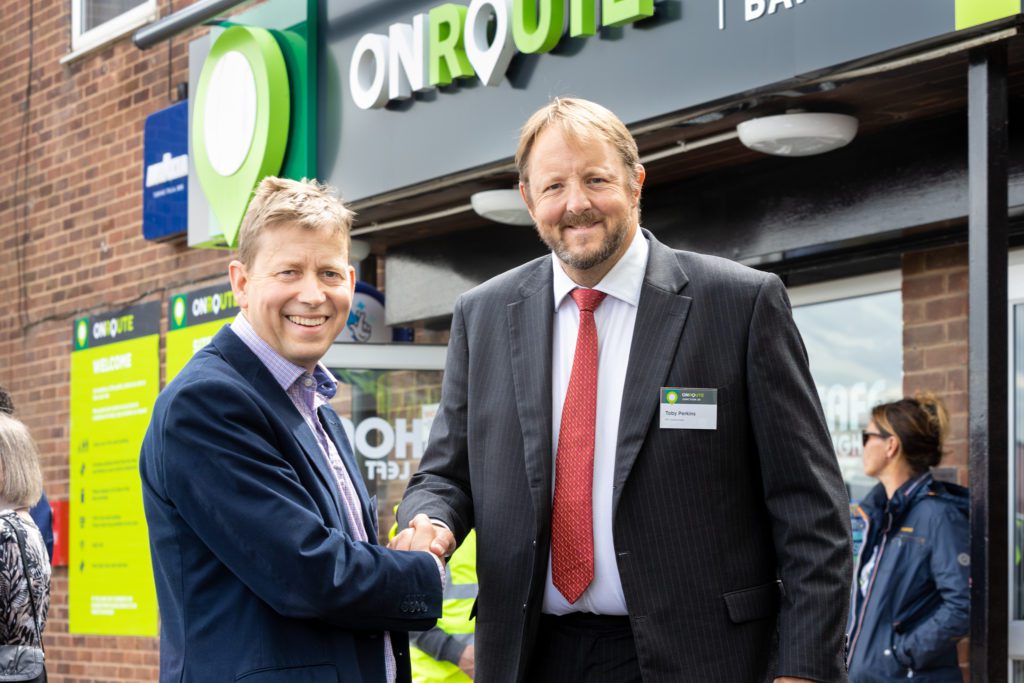 Plans to grow a nationwide network
One of Onroute's busiest sites, Junction 29 forms part of the company's steadily growing chain of truckstops located across the UK. The £1m investment demonstrates Onroute's commitment to improving both the environment and facilities at their truckstops. Their aim is to create a network of high-quality sites where HGV drivers can rest, refresh and refuel before continuing their journey. This aligns with the government's current plans to boost driver welfare to help tackle the effects of driver shortages throughout the UK.
Built to last
Onroute acquired Junction 29 knowing that resurfacing would be required to both improve the site and address health, safety and environmental concerns. Plans were drawn up specifying materials that would withstand the volume and weight of traffic to the site. Thornbury Surfacing, a company specialising in asphalt resurfacing, was appointed to carry out the work. Their experienced team was able to keep the site open for business throughout, allowing drivers access to fuel and parking, and minimising interruption to business.
For sustainability, the old concrete and asphalt were removed and crushed to form part of a new hardcore base. This was then covered with a double layer of base course macadam and a surface course of asphalt. A special fuel-resistant asphalt was laid under the fuel canopy to help prevent surface degradation from fuel spills and new drainage channels laid linking in with the pre-existing oil interceptor to ensure the environment is protected.
Investing in the future
General Manager at Onroute Truckstops, David Hatherell, said; "The new surface looks fantastic and we are delighted with the outcome. The project is a significant milestone in our ongoing journey to develop and improve facilities and services for HGV drivers. Plans are also in place to further expand our network and we are actively engaged in additional acquisitions which we hope to announce in the near future."