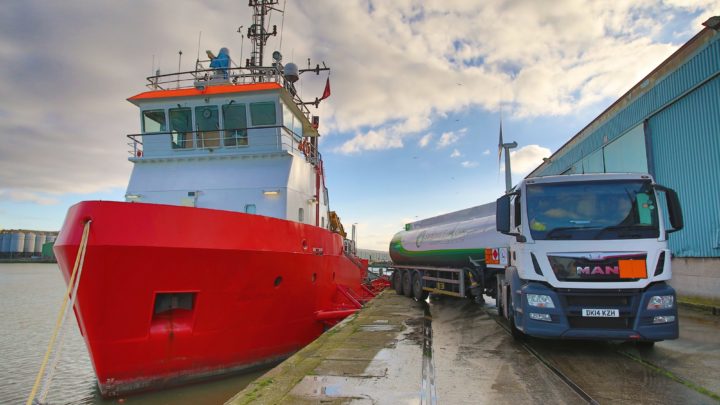 It is incredible to think that 10 years have passed since we ran a feature about your opening. Please talk us through the development of the business from those hopeful beginnings through to the current day.
We started off in 2010 with a small team of four and two vehicles. Over the years we have gradually expanded the team and the fleet and now have nearly 40 employees and supply just under 200 million litres of fuel annually from our two depots.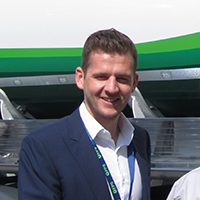 In 2021 we rebranded to reflect the company's success and continued growth. Fuel should be simple, so the brand needed to reflect that, starting with a top-to-bottom redesign of the company's website, logo and graphics. The new brand assets include a simplified, two-colour logo, along with a new website and tankers livery designs that utilise simple, bold graphics in order to get information to customers as quickly and efficiently as possible.
We added the new Manchester depot in December 2019. Operating out of a major UK city like Manchester means that we can reach more customers.
What have been the main company milestones of growth and change during that time?
In 2019 we were named in the top 1000 Companies to Inspire Britain. The report is an annual celebration of Britain's fastest growing and most dynamic small and medium-sized businesses and it felt like a huge landmark for us to be included in that inspirational list.
The team of four that began the business brought plenty of industry experience but what has been the best bit of advice you have even been given in this industry?
Starting out, I was told that customer satisfaction is key, and as a business we have stuck to this advice rigidly over the years. Our ethos has been built on customer care, credibility and industry knowledge and that's what has kept the business running seamlessly for over 10 years. I firmly believe that it will allow us to continue to grow and expand in the coming years.
When you started up you had quite a lot of commercial and agricultural customers, but you believed that establishing a domestic customer base was going to take longer. How did that go and how does your business divide up between domestic, commercial and agricultural now?
Commercial fuel is still a huge part of our business, and we also support vital businesses such as the emergency services, local councils, and the NHS.
Based in Liverpool, near to the docks, we supply a significant amount of fuel to the marine sector and, as such, have been able to build strategic partnerships with traders, agents, physical suppliers and vessel owners right across the country. We're also surrounded by surrounded by rich agricultural land and continue to support the multitude of local growers and farmers who require gas oil, on a daily basis.
The domestic market is always changing with fresh technologies and new ways to order so we've now implemented new digital marketing strategies to allow domestic customers to place fuel orders much more efficiently.
You began with two second-hand tankers and a dream of buying a new one. I'm guessing you achieved that dream – what are you running now?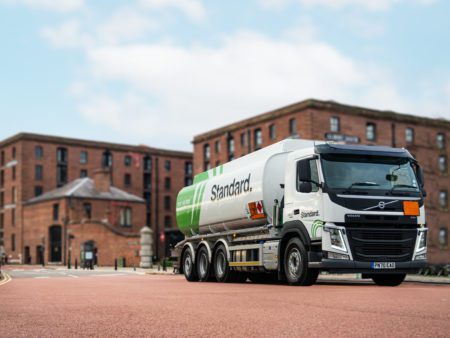 We certainly did and have increased our fleet tenfold in as many years, which feels amazing. It pays to dream big. We started out with just two second-hand tankers – an eight and a six-wheeler – yet now, as we celebrate our 10-year anniversary, we have an incredible fleet of 22 bought-as-new trucks with four more on order.
When you began there was a management team of three with a couple of drivers. Are the original members still part of the business and how many people are involved with Standard now?
One of our key focuses is to look after our employees and we're extremely proud that the original staff are still a vital part of the business. We now have several departments in the business including sales, finance and marketing and over 38 employees.
You won your first customers by simply driving around and knocking on doors. How do new customers hear about you now and how much has the business grown in terms of customers and areas. Do you see much opportunity to grow further, and do you have any plans to diversify?
We have a strong sales team in the office that works closely with our existing customers and brings in new customers. We also have a sales team that works out of the office, on the road, meeting new and potential customers. This has allowed us to reach different areas across the UK and expand out from our base in the North West.
You chose the name 'Standard' because you wanted to be known as a business with standards of quality and reliability. What do you believe you are known for now?
Reliability and pricing. We've worked hard over the last 10 years to build a business that customers can rely on in terms of price and crucially, service.
Do you currently offer any alternative fuels, and do you intend to add any?
There's a huge opportunity this year to grow into renewable fuels. We now offer HVO to our customers, which is a cleaner and greener renewable fuel. Through our trade body, UKIFDA, we can offset our carbon footprint, as can our customers.
What do you think makes your customers choose you as their supplier?
Our key focuses are our customers and the communities in which we operate. From the very start, we believed in keeping and maintaining a high level of customer service and this is still the case today. We create strong relationships with our customers and have an excellent team that can help them with any of their needs.
Over the next few years, what do you see as major challenges to the industry and what are the positives?
The biggest challenge has been the reassessment of rebated fuels. With very few exceptions, users of red diesel will have to switch to road diesel, PrimeHeat35 or HVO. We had a lot of customers that needed to make that switch and the biggest challenges for them were ensuring that tanks were run down in time for the change and that there were only nominal amounts of product left in their tanks and equipment. As the Government continues to push towards net zero, we need to be prepared for more changes like this in the future.
Looking to the future what is the vision for the company?
We have been looking to expand and open a third depot in the Yorkshire area. The ever- growing fleet of company-owned trucks are out making deliveries every day and opening up another depot, will allow us to reach new customers and expand further afield.
We congratulate Nick and the team at Standard Fuel Oils on all they have achieved in their first 10 years and look forward to reporting the opening of their new depot.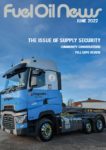 This article originally appeared in the June 2022 issue of Fuel Oil News magazine.
View the magazine