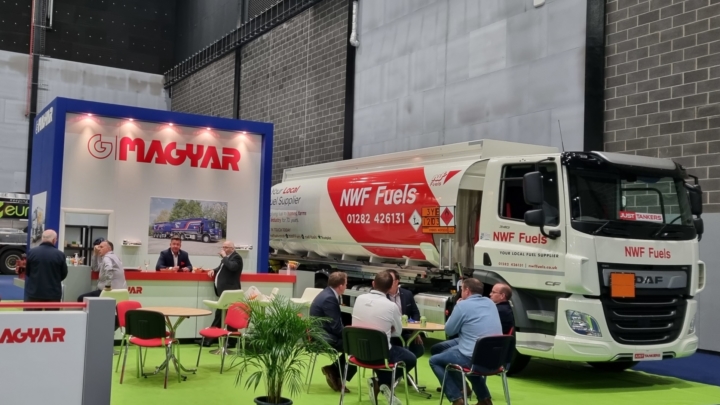 We spoke with some of the exhibitors and attendees to hear more about their experiences of this vital industry event.
A chance to meet in person
For many of those we spoke with, the most important aspect of the annual event is the opportunity to meet so many customers, clients and contacts in one place over just a couple of days as well as establishing new contacts. Something which, without the industry coming together, would only be achievable at a great deal of cost in terms of time, money and travel.
Darren Priddey of Fuelsoft was one who stressed the importance of this: "For us, the key was having the opportunity to see a large number of our customers after a difficult couple of years.
"Being able to catch up and show them the new functionality that we have been working hard on was great.
"It was also great to see some new faces and have the chance to demonstrate how we feel Fuelsoft can help their business."
Finally putting faces to names was an important aspect for Joby Clark of Cobo Tankers & Services too: "It was great to be able to put faces to names for those that are new in the industry. As everyone would agree it was fantastic to get everyone back together again and actually meet up in person, it really felt like old times."
The physical nature of the event as well as the networking opportunities that affords were regarded as its biggest assets by Fox Insights as Sylvia Kerscher enthused: "The best thing was to be able to showcase who we are, demonstrate what we do and meet industry partners face to face and understand what they offer, too."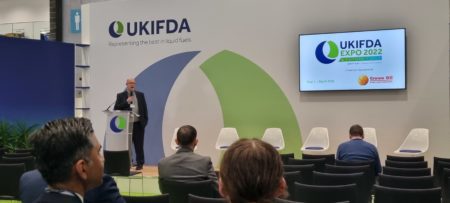 All under one roof
The sheer range and number of exhibitors was the best aspect of the event for Mark Nolan of Nolan Oils: "I always take some staff with me and after the first day we get together to discuss which stands to visit on the next day. So, having so many exhibitors to meet under one roof is the best thing about the show. To visit exhibitors individually would take months. All done in two days! What's not to like?"
The chance to meet so many in one place was also a highlight for Gwyn Lewis of Eliminox: "The diverse range of exhibitors and visitors from across Europe. A great opportunity to further our industry knowledge and increase awareness of ElimiNOX Eco™.
Meeting industry needs
Exhibitors and attendees have many and varied reasons for attending the event but all those we spoke with felt their ambitions for being there had been met.
Jo Dobbs of Refuels shared how the company was keen to "promote the services of Refuels and to catch up with people and the industry" and was delighted by the outcome and the atmosphere: "It was great to see and hear that the industry is still ambitious and looking froward to the future and future fuels."
Mark Nolan also found what he was looking for in Liverpool: "I am always looking for ways to improve the company especially with new technology," he explained.
"I wanted to check out new developments in accounts packages and ancillary equipment such as meters and new software." And Mark was impressed with the variety of exhibitors: "So many tankers and stands made the show such a great success in our opinion."
More than worth the investment
The challenge to be there was greater for overseas exhibitors, such as Fox Insights, but, as Sylvia confirms, even with the added obstacles to overcome, the EXPO still delivered plenty
to make the effort worthwhile. "Due to Brexit preparing the event wasn't always easy. For example, we had to produce a new booth setup specifically for UKIFDA EXPO," Sylvia explains. "But it was definitely all worth it."
"We finally got to meet the industry in person after two years of COVID, got new partners onboard, had lots of inspiring chats that gave us good insights into the UK market and helped us to reflect on ourselves and to keep learning – and that's what we're all about; to keep driving innovation that improves our customers lives.
"All in all, the tradeshow kept our expectations and we all left very happy with lots of homework to do – in a positive way."
Benefiting from the break
When considering the value of the outcome for Cobo Tankers and Services Joby Clark felt that the enforced break may have actually been a benefit: "From a Cobo point of view the gap in the shows has almost done us a favour. At the last EXPO in 2019 we had our base of semi- trailer customers and had just started to breach into the rigid tanker market with a little interest from various parties.
"Displaying this year, we have had our fifth and sixth orders from some customers and have 100 to build this year. People that had toyed with the idea of placing an order were able to see the confidence in the product and also hear honest feedback from our existing customers on partnering together with Cobo.
"On Wednesday we were able to secure our first order from a new customer who came to see tankers in the flesh and later on we were able confirm orders from Oilfast of 2 rigids for later this year, another 12 for next year as well as another 10 semi-trailers for this year for Tanker Consulting Services.
"Thursday put the cherry on the cake with 19 more for New Era next year so all in all a very successful couple of days."
The importance of knowledge sharing Eliminox had a very special reason to look back on the event with satisfaction as Gwyn Lewis explained: "Of course this year was extra special for us as we won the prestigious UKIFDA Innovation Award sponsored by Fuel Oil News.
"Our objectives in attending were to continue to increase awareness of our company, our brand and our now award-winning product! With all the key industry people either exhibiting or visiting we also wanted to network and meet new customers."
It certainly didn't disappoint as Gwyn confirms: "It was fantastic on many levels. The stands were great, the visitors and exhibitors were from diverse backgrounds, the speakers interesting and informative and we spoke with many interesting people from across the whole industry.
For Kiran Shaw of IFC Inflow, the networking and conference aspects of the event offered an important opportunity to share insight and information: "It was great to attend the UKIFDA EXPO. We enjoyed seeing many of our customers and suppliers and catching up on all the latest developments and hearing about the direction the industry is moving in."
Sylvia Kerscher agreed: "Obviously, we wanted to increase our profile within the UK industry and gain leads for potential partnerships. But as well as finding new partners we wanted to increase our industry knowledge by understanding their challenges that are specific to the UK market. Both worked out well!"
Can't wait for the next one!
Jo Dobbs summarised the event with heartfelt enthusiasm: "It was one of the best EXPOs for a long time – positive vibes all-round!"
Jo wasn't alone in mentioning the excellent atmosphere at this year's event with Darren Priddey naming it as his highlight: "The atmosphere! It felt different to other EXPOs, whether that is because of the time since the last EXPO or not I don't know, but it felt like there was a real buzz about this EXPO which was great to be a part of."
Darren confirmed that Fuelsoft also considered the event a huge success and well worth the team being there and was surprised by just how busy it was for them: "It was busy! Whether it was with existing customers, new faces or meeting with our product partners, the 2 days went incredibly quickly.
"We can't wait for the next one. The UKIFDA dinner on the evening was also a lovely event to be a part of. A really good way to celebrate those people in the industry that make it such a fantastic industry to be a part of."
And, casting his mind back over the UKIFDA EXPO 2022, Mark Nolan's words echoed the feelings of many: "A great event, so good to see it so well attended. Good to see familiar faces again after the long break."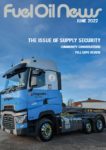 This article originally appeared in the June 2022 issue of Fuel Oil News magazine.
View the magazine