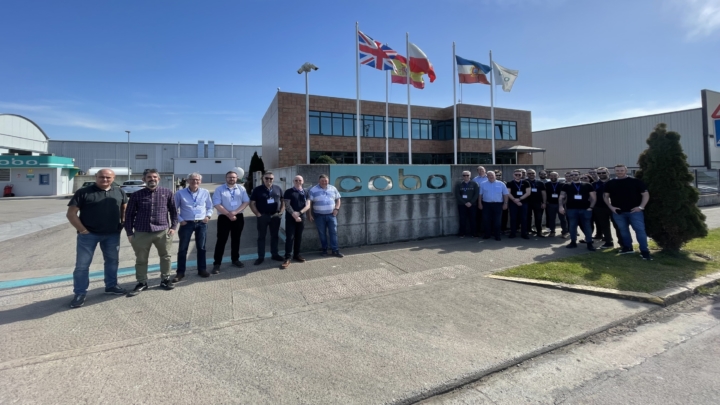 As part of a Spanish company, with its headquarters based close to the port of Santander, Cobo recently organised a highly successful trip for fuel oil distributors to tour the factory and see tankers in the various stages of production.
Claudia Weeks, content creator for Fuel Oil News, caught up with Joby Clark, sales and project engineer at Cobo, to hear all about the visit.
"On the 24th March this year a contingent of existing and potential customers headed to the Cobo factory near Santander for a factory visit. This has been the first opportunity since the start of Covid that this has been able to happen and, through this time, new customers have been gracious enough to put their trust in the product without seeing the factory and how the tankers are put together.
"We had hoped for more guests to join us but, with the atrocities in Ukraine affecting the UK markets and creating additional challenges for distributors, we understandably had people drop out. This "Cobo Conference" is something that we will look at organising at least once a year as we feel it is a good way to let people gain confidence in the company by seeing the quality and organisation of the facility in Spain.
"A total of 19 existing or potential customers visited on this trip, and it was possible for some of these to see their own units in build. We even had tankers that were displayed in the UKIFDA Expo this year in production during the visit!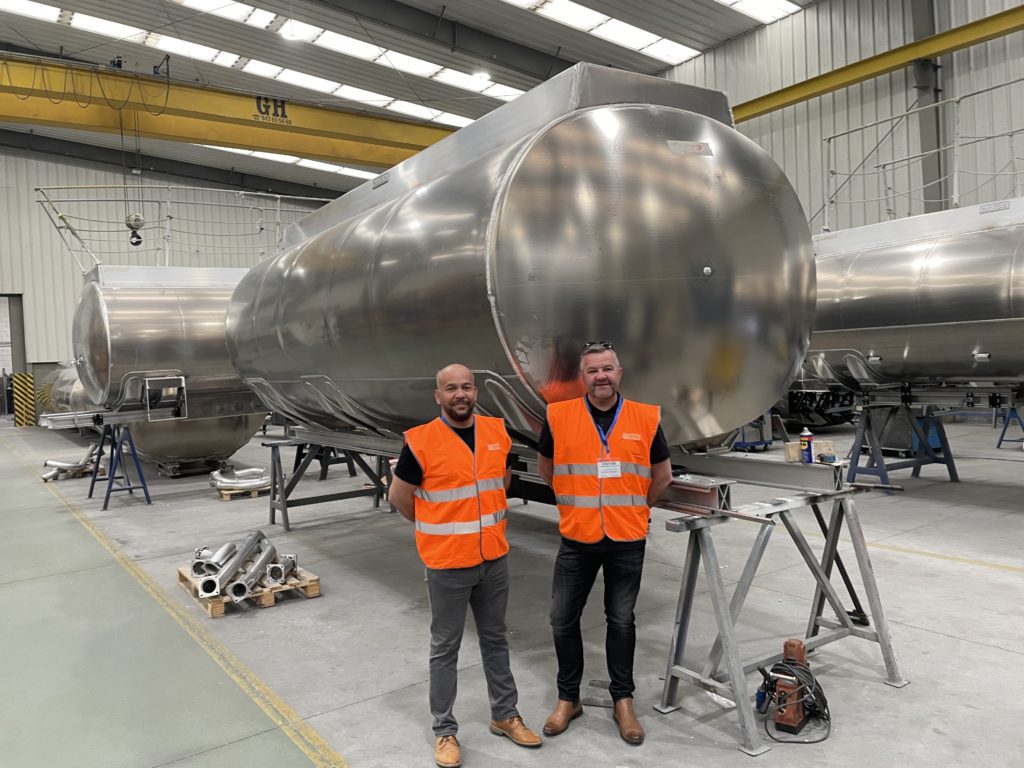 "We had organised flights out of Stansted on Thursday morning which obviously meant that some of us stayed at the airport on Wednesday night, proving a good way to start introductions for people in a relaxed environment.
"After landing in Spain, we headed straight to the factory for an introduction and short presentation on the design of the tankers and some of the technologies we use in production. We feel that this gives a good insight into the quality of the product.
"After that we split into smaller groups for the factory tour so our guests could get a better understanding of how the units are built and could see for themselves the quality and the modern technologies employed."
A work in progress
"We were able to get Barton Petroleum, Your NRG, Suckling Transport and Tanker Consultancy Service pictured next to their tankers that were being readied to be put into the Expo. These were mid-build and people were amazed that these would be completed, and in the show, just 7 weeks later which also included transporting them to the UK.
"The Barton Petroleum tanker is rather special as it is their 50th anniversary and to celebrate this they have had a copy made of their very first tanker livery which was unveiled at the Expo.
"Once the tours were complete, a lunch was provided for all with typical Spanish fare provided in the spring sunshine. Our visitors were able to have a good look around Santander during the afternoon before meeting up for a few refreshments and an evening meal.
"The trip proved to be a great success and it's fantastic for people to see the facility and gain confidence in the product and the company. Not only that, but the format of having a group of customers works. Whilst it is slightly harder to organise than individual trips, the benefits of having a large group are that people are able to network, and any potential customers can get an honest answer from existing customers about their experiences of buying a Cobo tanker."
Investment reflected in quality
Claudia spoke with Howard Marriott, group transport manager at Barton Petroleum and a guest on the trip, about his visit to Spain: "The factory visit was extremely informative," Howard commented. "And you really appreciate the expertise and professionalism that goes into this kind of operation when you see how these tankers are made.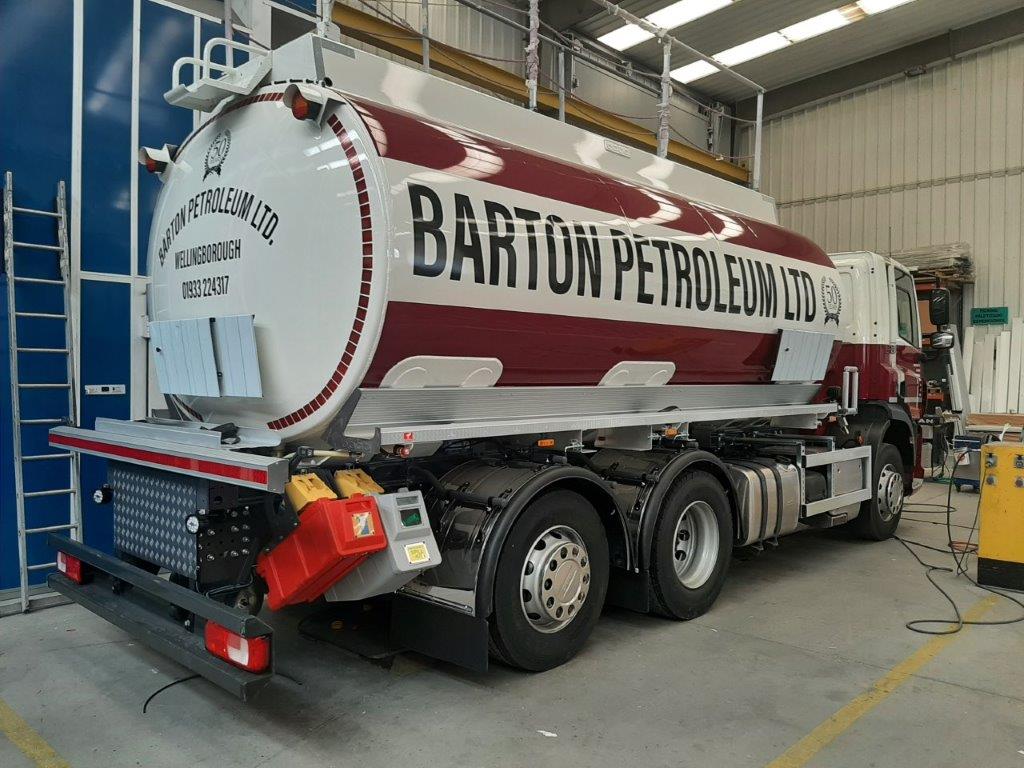 "From the design stage to the tanker being painted and ready for delivery, the process is carried out with a very impressive attention to detail. It is also nice to see some of our tankers in various stages of the build process.
"The investment Cobo make in this facility and their employees is reflected in the quality of their products. As usual, Cobo were the perfect hosts during our visit to Santander."
Amazing production capability
Claudia also spoke with Peter Kitchen, operations manager at YourNRG: "This was
my second visit to Cobo's impressive trailer and tanker building facility. I first saw the site two years ago when YourNRG had a couple of trailers in build, and we were at that time looking to place an order for ten rigid tankers.
"Now I am back, this time to see the progress of the first chassis of our current build. After a thorough look over the fabrication facility, guided by Fernando Gomis (MD), I stood for a moment in what is a large well- ordered building, and the thing that amazed me the most was how obvious it is that this is a production facility that can build a tanker in a very short space of time.
Peter also appreciated the opportunity to spend time in the company of fellow distributors – a pleasure that has been denied through the last couple of years. "Later, the sun shone brightly as the group enjoyed Cobo's hospitality in a pleasant corner of their compound," he recalls. "Picture the scene, vehicle chassis on one side, completed tankers to the other side, and a group of rival distributors enjoying each other's company for the first time since you know when.
"If all goes according to plan, by the close of this year YourNRG will have taken delivery of its 50th Cobo-built tanker."
We look forward to sharing photos of the new Cobo tankers, proudly displayed at the UKIFDA EXPO in our June issue. Make sure of your copy by subscribing here.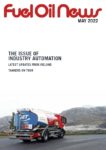 This article originally appeared in the May 2022 issue of Fuel Oil News magazine.
View the magazine