In the vanguard:
At the company AGM in May 2021, the shareholders of Total voted to change its name to TotalEnergies to reflect the company's overarching ambition to become one of the top 5 renewable energy players by 2030.
With this ambition in mind, the focus will embrace the full spectrum of energy sources: oil, gas, biomass, wind and solar. This will be accompanied by a switch of emphasis which will see oil product sales, as a % of total energy sales, falling from 55% in 2019 to 30%. The growth of energy production will be based on two so-called 'pillars' – LNG and Renewables & Electricity.
Over the past five or so years, the company has been very much in the vanguard of positioning itself to be a major player in acquiring companies along the electricity supply chain, from renewable generation to battery storage to vehicle charging and domestic power. This has included the following acquisitions:
In 2016 the company acquired long-established French battery manufacturer, Saft Group.
In the same year it acquired Lampiris, the third-largest supplier of natural gas and renewable power to the Belgian residential sector (circa 1 mln customers), which is now called Total Spring.
In 2018 it acquired G2Mobility, a French, leading provider of electric vehicle charging solutions with almost 10,000 points managed by its web services platform, supporting both municipal governments and private businesses.
Paris-based power supplier, Direct Energie, France's third largest energy supplier, was acquired in the same year, giving Total a portfolio of around 4 mln customers, which it hopes to expand to 6 mln by 2022, to become a major challenger to both EDF (which currently supplies 80% of the market) and to Engie.
Investment in future energies
At its AGM in May the company expressed the intention of developing 100GW of renewable energy by 2030, supported by $60 bln of investments therein.
This will include a 55MW solar farm in Lorient, in the northwest of France, along with solar developments in both Spain and India. The company is also involved in offshore wind projects in the North Sea.
With the above backdrop, and the recent COP26 meeting in mind, it is therefore of particular interest to understand the company's latest view of the future. This is described in its Energy Outlook 2021, which updates scenarios that were developed in the previous year.
Energy Outlook 2021:
The scenarios, which look forward to 2050, are:
Momentum – described as a 'forward looking' scenario and based on the decarbonisation strategies established by countries that have committed to achieve net carbon neutrality (net zero) by 2050, while China meets its net zero objective by 2060.
It works on the basis of specific targets already declared by those who have set them, and the nationally determined contributions agreed at COP21 (Paris Agreement) for the others, which, themselves, are subject to regular review and updating.
The key assumptions in this scenario are:
Countries committed to net zero by 2050 will ban new ICE sales in 2035 which, in turn, will provide impetus to the electrification of light vehicles and increased adoption of hydrogen and hydrogen-based fuels, such as e-fuels, methanol & ammonia in other transport modes.
More widespread end-use electrification, with rising demand for renewable power sources, such as solar and wind.
Natural gas will see large scale use as a 'bridge' or transition fuel source, particularly in power generation and industry (supplanting coal).
Increased recycling of plastics, with a ban on single use plastics from 2040, both by countries committed to net zero in 2050 and China.
Emissions will peak in the mid-2020s in China which, itself, will achieve circa 60% decarbonisation (vs current levels) by 2050.
Global economic growth will average just over 3% pa, with energy use expanding by circa 0.5% pa.
This scenario is projected to result in a temperature rise c.f. the pre-industrial level, of between 2.2 and 2.4°C
Rupture – described as a 'back-casting' or retroactive scenario and assumes achievement of the over-arching Paris Agreement commitment of a temperature rise of well below 2°C and based on IPCC emissions scenarios.

It assumes that there will be significant shifts in the public policies of those countries not already committed to net zero in 2050, large scale advances in clean technologies and re-building a global new energy system.
The key assumptions in this scenario are:
The extension to all emerging economies of the decarbonisation approaches adopted by the 'net zero in 2050' countries.
The diffusion of innovation will enable the amplification of those 'enablers' that will help to drive the energy transition, such as:
Further development of electrification and renewable energy sources
Expanded penetration of new energy 'carriers' e.g clean hydrogen in industry and transport, e-fuels, biofuels and biogas
Increased energy efficiency
That global economic growth will average just over 3% pa, with energy demand growing by circa 0.3% pa.
This scenario is projected to contain the temperature increase c.f. the pre-industrial level at 1.7°C, with an achievable sensitivity for a 1.5°C rise.
Need to act sooner and faster
The above scenarios provide something of a sobering assessment insofar as, even under 'Momentum', which closely reflects many of current global commitments, the outcome is projected to be a temperature rise in excess of 2°C above pre-industrial levels in 2100.
It will require at least the much more ambitious and demanding scenario under 'Rupture' to achieve the COP21 (Paris Agreement) goal of containing the increase to 'well below 2°C'.
This echoes the tenor of sentiment that emerged from COP26 as well as a recent comment from the head of the IEA – that the world will need to adopt significantly more ambitious reduction commitments AND act on them – sooner rather than later.
The energy transition needs to be accelerated!

Rod Prowse worked for 30 years across the full spectrum of the downstream oil sector, in both the UK and USA, which included leadership positions in both retail and wholesale fuels businesses. Rod draws on his extensive knowledge of this global industry to bring us 'Industry Insights' each month.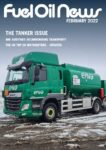 This article originally appeared in the February 2022 issue of Fuel Oil News magazine.
View the magazine