With roots that run deep through the island of Ireland, Maxol has been at the heart of the community for 100 years and the important Christmas Coffee Cup campaign for 2021 is now underway at selected service stations across Northern Ireland.
The initiative aims to raise £20,000 for Northern Ireland's depression charity Aware and encourage good conversations about mental health
Between now and the end of December, for every Barista Bar coffee or tea bought at participating stores, Maxol will donate 10p to the local charity which supports people living with depression.
Additional element to new campaign
In a campaign first, this year Maxol, will be sharing some simple suggestions across their social channels on how to start a conversation about mental health with friends, family, or colleagues. A series of informative clips will be published over the next few weeks and will feature AWARE counsellors giving advice on questions to ask someone about how their feeling and ways to reach out to them.
Brian Donaldson, chief executive officer, The Maxol Group said: "This year AWARE has marked 25 years of supporting people living with depression.
"Supporting good mental health is hugely important but, we also recognise it can be difficult to start a conversation about mental health, especially when it is someone close to you. With help from AWARE we have created simple suggestions on how to get the conversation started. You can see the content on our social channels and in selected stores too.
"So, if you are out and about in the coming weeks pop into a participating Maxol station and buy a hot drink and you'll be helping to make a positive difference to many people's lives."
Vital support in times of high demand
Clare Galbraith, head of fundraising manager for AWARE said: "Since 1996, AWARE has been offering support and education to thousands of people living with depression, anxiety, and bipolar disorder in Northern Ireland. In AWARE's 25th year, the launch of the Coffee Cup Campaign is more important than ever. With the ongoing impact of the pandemic, we have experienced a 40% increase in demand for our support services both in person and via Zoom between 2019 and 2021.
"During this same period, the number of people the charity has reached via social media has risen by 185%, whilst traffic to its website has increased by almost a quarter. The charity is currently expanding services to meet this increase in demand and will benefit hugely from the funds raised."
The money raised by the campaign will go towards AWARE providing support, education, and information for people impacted by depression, bipolar disorder and mood related conditions which have been severely impacted by Covid-19 in Northern Ireland.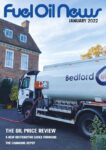 This article originally appeared in the January 2022 issue of Fuel Oil News magazine.
View the magazine