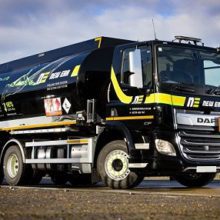 Playing a key role in the hiring process at Harlow-based New Era Fuels, we hear from HR manager, Vicky Finch who tells us about her own entrance into the company: "I entered the business having eight years' experience working within human resources and recruitment. I met with the finance director who presented me with New Era Fuels core values, which attracted me to the position. New Era Fuels was undergoing a growth phase and required a full-time human resources manager. I felt very excited to be part of the New Era Fuels family; I was especially attracted to the company culture, core values and the growth plans for the future."

Telling us more about the company's growth plans for the future and how the first port of call is looking within the company, Vicky comments: "As a business, we understand succession planning can be to identify business-critical roles for which potential successors are needed. New Era Fuels are always looking out for our 'shining stars within the business."

New Era Fuels is not against bringing new talent into the business however, as Vicky explains: "We are pro-apprentices! We recruit for apprenticeships across the business and have the view that employing apprentices is a fantastic way to upskill, train and develop employees.

"Our apprentices make contributions to the workforce whilst they are learning – gaining skills on the job. We typically appoint a 'mentor' who will be the line manager of the apprentice. The mentor will help our apprentices develop their approach to work, including building rapport, teamwork, integrity and remaining positive and professional. They will also teach the apprentices about company procedures, culture and the ways of working.

"Hiring an apprentice is a cost-effective way of recruiting and training our employees too."

A family affair

One of the most charming aspects of the industry is the number of businesses still owned and operated by families. With new generations taking the reins from their parents, it seems that many in the sector have ready-made succession plans. David Prince, owner of Melton Mowbray-based Prince Petroleum tells us more about his own family's history with fuel distribution:

"Prince Petroleum was started by my late father Victor Prince in 1963, at this time they were known as "Hawkers" for Esso blue paraffin, I recall as a child going out on paraffin delivery rounds with my father in, what was already an old, ex MOD fuel Tanker.

"By the mid to late sixties the business was appointed an authorised distributor for the then continental oil company (CONOCO) at this time the business had expanded into road fuels, home heating oil and agricultural fuels.

"Today Prince Petroleum is owned by David and Rita Prince. The business continues to grow and recently my two sons have joined the business."

We also spoke with Tom Davies of Hampshire-based Rawlings Fuels about the issue of succession for an independent distributor but with three generations of the Rawlings family still active in the company, Tom sees no reason why the business shouldn't continue operating independently for many years to come.

Terry Rawlings was the owner of Rawlings Fuels when Tom got involved, as he explains: "I was originally a planner at Cemex in the construction industry and then came into oil distribution to work for Terry." Terry is still involved with the business but has passed it down to his son, Paul Rawlings. It is still very much a family business with Terry's daughter and grandson also working for the company.

Sam, Terry's grandson is currently the O-license holder for Rawlings Fuels and so the company is safe in the hands of three generations of the family with everyone focussed on the company vision of looking after its customers in the very close-knit communities Rawlings Fuels delivers to.

Finding the right person

For some, having a succession plan is only half of the challenge.

Having gone straight from school into Ultramar Golden Eagle and the family-owned fuel distribution business, Mark Nolan is someone who clearly sees the challenge that succession planning presents to the independent distributor: "My grandfather was the first distributor in the family supplying coal and wood to the local community. Then my dad came on board and set up selling petrol for Regent from fuel pumps at the front of the farm and then onto selling blue paraffin bought from Vine Fuels who then wanted a distributor for kerosene between Bicester and Aylesbury.

"This was how fuel oil distribution first became the family business and my mother and father set up Markim Fuels as a distributor for Ultramar which I became a director of and then Q8 bought out Ultramar so I set up independently as Nolan Oils in 1988. In truth I believe I now work twice as hard for a 3rd the profit my parents enjoyed, so they used to tell me!

"I'd love to expand but it's a challenge to find the right person to run a third depot with the industry not as attractive to come into as it once was. I can understand why others I know have sold up. Some have no-one to hand it down to, others see buying groups constantly eroding the profit margins and many youngsters perceive it as smelly and dirty industry which reduces new talent coming into it."

"It's a shame because I still love the business as do my staff. I look after them and they look after the customers and, at the end of the day, that brings a lot of satisfaction."

Do you have a succession plan for your company? Have you thought about selling, or buying in the future? We'd love to hear from you.