This new virtual challenge, Breakout for Ben – road to £1 million, follows on from Ben's rallying cry last year asking industry leaders for urgent support, following a 50% increase in service demand against a £1m income shortfall. An incredible £530,000 has been pledged so far by automotive industry companies to help address Ben's fundraising shortfall, however there is still some way to go to ensure Ben can be there for everyone who needs support.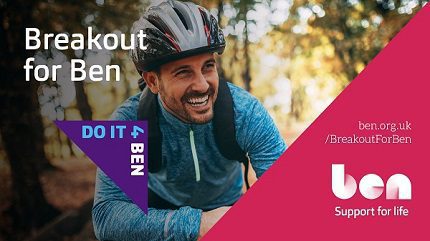 Therefore, Breakout for Ben is the latest challenge to launch as part of the Do It 4 Ben fundraising programme, to help ensure no-one in automotive faces life's toughest challenges alone. Originally an annual fundraising challenge for Ben by TrustFord, Breakout for Ben has now been opened up so the whole automotive industry can get involved and show their support, even during lockdown.
This year, Breakout for Ben will run from 5th – 14th February with socially-distanced teams of up to 10 covering 1,722 miles by exercising in their own way to fundraise for Ben. The event will see teams embark on a virtual journey visiting motor circuits across the UK, starting at Pembrey Circuit in north Wales and taking in all four home nations, before ending at Silverstone. Using an app, teams can track their progress together meaning they don't need to be physically together with other team members during the challenge.
To find out more and sign up, visit: http://ben.org.uk/BreakoutForBen
Matt Wigginton, fundraising director at Ben, said: "Thanks to the incredible support of our industry, we are now on the road to raising £1m to help people in our industry when they need it most. This said, we still urgently need your help as we're not there yet.
"Twice as many people are turning to Ben for mental health support and we don't want to be forced to make tough decisions about who we can and can't support. Automotive people need us now more than ever, as this period of unprecedented challenges continues. The issues people are facing now are more urgent and complex than ever.
"This is why we're launching Breakout for Ben – road to £1 million. It's a fun virtual challenge that anyone and everyone can get involved in!"