The introduction of gravity metering to the latest release of Mechtronic's OptiMate gives fuel oil operatives greater confidence that all deliveries are accounted for and efficient delivery schedules can be maintained. OptiMate also enables pre-set gravity deliveries allowing split loads from each compartment.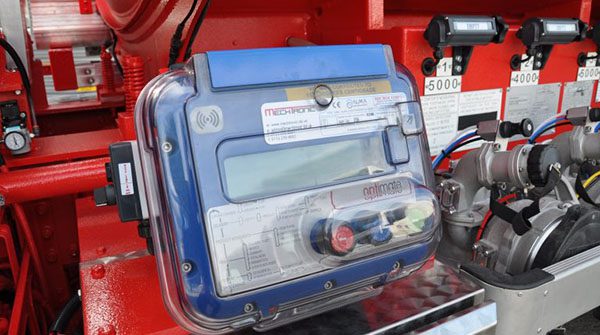 An electronic metering system for the fuel oil distributor, OptiMate incorporates a turbine meter that delivers on accuracy and repeatability. The latest release of OptiMate offers gravity metering along with hose and bulk through the same class leading turbine meter. Regardless of the delivery method, it's now metered, ensuring every litre is delivered, and a ticket is printed.
OptiMate incorporates a self-draining manifold that prevents contamination and enhances a cleaner line change, protecting fuel oil distributors against contamination. This industry first ensures that the manifold is cleared every time, leaving the driver free to continue with their next delivery without the threat of a possible contamination. OptiMate also supports automatic compartment follow-on and pre-determined line changes at the end of the delivery, without the need to return to the vehicle – saving drivers time and increasing efficiency.