Kettlewell Fuels director Janet Kettlewell was inaugurated as the 33rd President of UKIFDA on the 24th June 2020, during the trade association's first virtual AGM.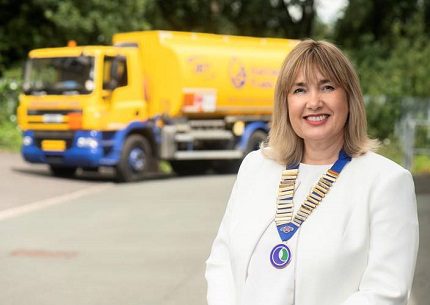 Taking over the Presidency from Jodie Allan, who held the post for 3 years, Janet will head the association's management committee. Her new role will involve working closely with chief executive Guy Pulham to optimise the work of the association in lobbying government on energy policy and the delivery of services for both distributor and associate members.
A UKIFDA management committee member for some 5 years and regional representative for Yorkshire and the North East of England, Janet has seen the trade association transform itself into a modern, forward-thinking and highly ambitious organisation that is ready for the next stage of its development.
Janet brings a wealth of sector experience and knowledge to the role, having joined her Yorkshire based family business Kettlewell Fuels, in 1996. Janet recently undertook an MBO of the business with husband Trevor, taking ownership of Kettlewell Fuels outright from the Kettlewell family.
Commenting on her appointment Janet Kettlewell said; "I am absolutely delighted to have been given this opportunity to use my 24 years experience for the good of the industry.
"I aim to continue the sterling work of past presidents on raising standards in the industry and making further significant progress on how the industry meets the decarbonisation targets set by the governments of the UK and Ireland. As the market continues to develop and change, as we enter a new era of liquid fuels, we will embrace all the challenges that lie ahead for our sector with enthusiasm and passion and I am absolutely sure that UKIFDA and its members will continue to thrive.
"I cannot wait to start working with the fantastic team at UKIFDA and the exceptional management committee to see what the next two years bring."
UKIFDA chief executive Guy Pulham adds; "We all warmly welcome Janet as our new President – and we know she will make an excellent and fitting successor to Jodie. The team at UKIFDA has worked closely with Janet in her roles as regional representative and Vice President but also directly with her company Kettlewell Fuels, who have been UKIFDA Members for 24 years. She will prove a fantastic asset and a great advocate of our campaign to secure the much-needed support from government to ensure biofuels play a key role in the future of the 1.5m heating oil consumers in the UK and 686,000 in Ireland who are not on the gas grids."