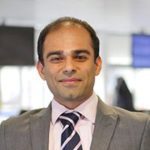 Greenergy entered the marine fuel market in October last year, leveraging the robust distillate supply chains and infrastructure already in place for its road fuels business to meet emerging demand for marine gasoil containing maximum 0.1% sulphur. It has quickly established itself as a trusted supplier to the market, rapidly growing its marine fuel sales and expanding to new locations to give national coverage for customers.

"We are responding to customer demand," explained Varun Chhabria, group head of marine fuels at Greenergy.

"Our customers appreciate the high levels of supply reliability and personalised service we have been able to provide for supply of marine gasoil (0.1% sulphur), and would now like the choice of also purchasing marine fuel containing 0.5% sulphur."

Greenergy will supply 0.5% sulphur marine fuel initially from Cardiff as part of a phased rollout. This will complement Greenergy's existing supply of marine gasoil (0.1% sulphur) from Navigator Thames (south east of England), Tyne (north east of England), Eastham (north west of England), Grangemouth (Scotland), Cardiff (Wales) and Dublin and Foynes (Ireland).