As in all sectors, the downstream oil sector needs to consider how it can contribute to decarbonisation goals, whilst providing security, reliability and affordable products to wider society.  Future Vision – the latest in a series of publications from UKPIA – seeks to provide a clear vision for the industry's future.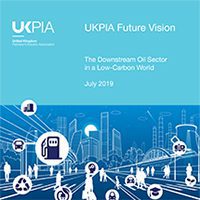 UKPIA members include key industry players – BP, Essar, ExxonMobil, Petroineos, Philips 66, Shell, Total and Valero with associate members Certas Energy, CLH, Dragon LNG, Local Fuel, National Grid and Puma Energy.
"UKPIA has set out to paint a vivid picture of the range of possibilities on offer for the refining and fuel marketing industries," said Stephen Marcos Jones, UKPIA director-general.
"We also outline the opportunities available through innovation to achieve a circular economy thanks to developments in feedstocks, operations, fuels and products. UKPIA's vision for the long-term future of the downstream oil sector is a positive one.
"It is a future where new, low-carbon1 liquid fuels and products can make as much of a contribution to decarbonising the transport we use as can Electric Vehicles (EVs).
Where refinery manufacturing processes can operate with maximum efficiency, potentially utilising carbon-reducing technologies such as carbon capture or, working with other sectors in industrial clusters to decarbonise together.
 Where individual downstream oil companies can utilise their expertise and infrastructure to deliver low-carbon fuels and products directly to the consumer, potentially in an entirely reimagined forecourt experience.
The UKPIA Future Vision: The Downstream Oil Sector in a Low-Carbon World report can be downloaded here – http://ukpia.com.publications