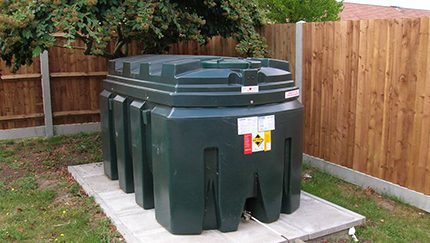 Following the theft of 1,500 litres of heating oil from Whitehaven Respite Unit in Co Antrim, a home for children with disabilities, a call out to distributor members of the Northern Ireland Oil Federation (NIOF) resulted in Solo Direct offering to give the unit 1,000 litres of oil to help during this difficult time.
With £1,000 worth of oil stolen over the Christmas period, unit workers and children were left in extremely cold conditions causing considerable disruption and upset in the local community.
The theft was only discovered when staff opened the unit after the festivities.Speaking to the BBC at the time, the unit's acting deputy manager, Linda Guthrie said:
"An overnight stay had to be cancelled, causing distress to the five children who were due to visit the respite unit.  These children have a significant disability with a number having autism and it takes a lot of preparation for them to come to Whitehaven."
"This is particularly unpleasant for the staff and children at Whitehaven,"
said David Blevings, OFTEC Ireland manager.
"On a positive note, I was pleased that the oil industry responded generously with Solo Direct offering Whitehaven 1,000 litres of oil to demonstrate their support in this tough situation."
At Solo Direct Andrew Hutchinson told Fuel Oil News' Irish correspondent Aine Faherty that after OFTEC made an appeal to Northern Ireland oil businesses, he felt the gesture was a chance to give something back to the community which had been outraged by the theft.
"It's just 1,000 litres of oil and one of those things I thought the business could and should do," said Andrew.
OFTEC has since reminded oil users including homeowners, farms, schools, businesses, play groups and churches to be particularly vigilant and to take precautions to protect their fuel.
"During the winter when many people keep their fuel tank stocked up, they can be easy targets for thieves," added David.
"Usually it's only when people run out of oil and their heating stops working that theft becomes apparent. Simple precautions such as making a regular note of your oil levels will help to ensure that you are not the victim of oil theft."