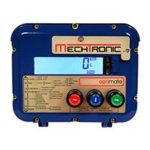 "Should traces of red diesel be found in compartments containing road fuel, as everyone knows HMRC has the authority to quarantine both vehicles and fuel stocks but fuel oil distributors can rest assured that contamination of stock, resulting from a line change can now be eliminated," says sales engineer Brad Wilkie.
"OptiMate's electronic metering system delivers a guaranteed line change protocol that both distributors and regulatory authorities such as HMRC can agree upon.
"Using advanced software, OptiMate automatically empties the manifold, purges lines and performs product returns. Its unique system provides improved efficiency and productivity on road tankers, guaranteeing cross-contamination and driver errors are a thing of the past.
"Automatic product recognition is delivered through VisiLevel, a unique gauging system that identifies the product output for each individual tanker compartment. An electronic dipstick is used to determine product volume, temperature, density and colour, this information is then automatically fed through to the OptiMate console. This process ensures that driver keying errors are a thing of the past – further eliminating the risk of cross-contamination."