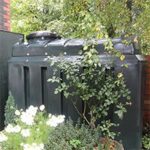 According to the latest quarterly data from the Sutherland Tables oil remains by far the cheapest of all major home heating fuels. Although the sustained fall in kerosene prices may be about to end as prices begin to slowly rise, there's good evidence to suggest the cost of heating oil will remain low for the remainder of 2016 – and quite possibly beyond.
The cost of heating an average three-bedroom home in Great Britain with an oil condensing boiler is now just £690 per year. That's 31% less expensive than mains gas, the second cheapest option which costs £1,007 per annum; 52% cheaper than an LPG condensing boiler at £1,448 per annum and 56% cheaper than electric storage heaters at £1,588 per annum to heat the same average home. An oil condensing boiler is also substantially cheaper to run than any renewable heating option.
OFTEC director general Jeremy Hawksley comments: "Consumers are sticking with oil as the cheapest home heating fuel by far. Sales of oil condensing boilers have reached a nine-year high and we're receiving an increasing number of enquiries from gas safe technicians looking to expand into the oil market. The outlook for the oil heating industry remains positive.
"An OPEC meeting last month ended without agreement to reduce oil production and with Iran keen to regain its former market share, it's likely that the current world over-supply will continue," added Jeremy.
"However, low prices have had some impact on production from US fracking and with increasing demand from China, there could be enough pressure to set prices rising, although probably not to anywhere near the highs we saw in Spring 2013."