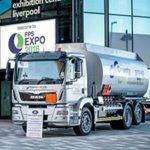 For the first time, the two-day event took place at the new Exhibition Centre Liverpool, (ECL) and recorded visitors from afar afield as the Falkland Islands, Australia, Singapore, the USA, Mexico and Canada as well as Europe.

This year more than half of the exhibiting companies announced new products and services and – for the first time – key industry professionals from DVSA, HSE, the Deputy Traffic Commissioner and CIRIA spoke in a series of seminars.

"The ability to network with all the major companies, organisations and associations involved in fuel distribution under one roof remains one of FPS EXPO's key attractions," said Dawn Shakespeare marketing and events manager.

"FPS EXPO is always extremely popular but 2016 beat all expectations with the interest in Liverpool being phenomenal," added Dawn.

"The first night drinks reception meant that lots of exhibitors and visitors made the most of a fantastic opportunity to network on an informal basis, plus having our after show party at Circo Liverpool – a circus-themed bar/restaurant with panoramic views of Liverpool's historic Albert Dock – was a great end to the exhibition.

"Again this was a first for FPS EXPO – we wanted this year's exhibition to end with a bang and we felt this venue would add to the uniqueness of the 2016 exhibition – new venue, new city, new exhibitors, new products, new seminars and a new after show event.

Next year's event also takes place at ECL Liverpool on 10th & 11th May. For more information or to book exhibition space visit www.fpsshow.co.uk or e-mail ds@fpsonline.co.uk.