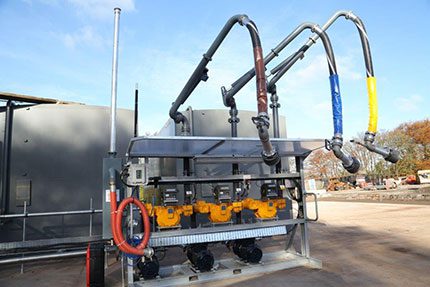 Having acquired a new site in Tiverton, Devon, Mitchell & Webber picked IFC Inflow to install an all new bottom loading skid.
The model of choice was the mechanical ADP100-3 4in 3 arm model, due to the positive experience this model has already shown on an existing distribution site.
"We commissioned the first IFC skid unit and from then on it worked without fault," said Robert Weedon, managing director of Mitchell and Webber. "I was so impressed that we had no reservations in placing an order for a second skid – truly a well-built, reliable piece of vital equipment."
Suitable for ATEX zone one hazardous areas, the AD series bottom loading skids are proven designs with the added benefit of optional electronic batch control. The skids also offer 1600 litres per minute flow rates, BLA445 series spring balanced bottom loading arms, 4in Acuflow positive displacement flowmeters, Veeder Root mechanical preset, counter & ticket printer and 11KW ultra high speed pumps. A skid-mounted emergency shutdown button assures that risks are minimized for operators during tanker loading operations. A weather canopy was also supplied for operational convenience.
"A top of the range bottom-loading skid unit was supplied and fully installed within budget allowing for distribution to start as soon the Tiverton site opened for business," added Kiran Shaw.