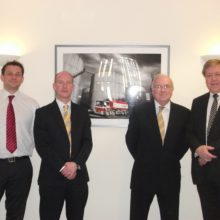 Being located in London does also have it advantages, particularly when you have some high profile customers on your books. Linton has supplied fuels to royal properties for many years and has just received the royal warrant for a second period of five years. "We're extremely proud," said David Flynn. "The warrant reflects the high level of service we deliver and we're especially honoured to appear in the Queen's Jubilee programme this year."
Fresh approach
The company has recently undertaken a major rebranding exercise and is extremely pleased with the results. "We changed our brand identity eight years ago and whilst it was innovative at the time, we felt that we needed to freshen it up and modernise it again," explains Russell. "We were conscious that we wanted to evolve what we already had rather than totally reinvent. It's not a complete change but more of a shift in direction. We've also updated our website and plan to offer customers the ability to manage their accounts and order oil online."
The new colourful branding can also be seen on many of the company's new tankers. "It's a steady process," said Peter. "We can't take all our trucks off the road at the same time but we're working our way through the fleet and hope to complete rebranding by the end of summer."
Ten years on
In an article written ten years ago by FON's editor Jane Hughes, it stated: "In ten years time, Linton will be a profitable company, populated by well-motivated staff, paid above the industry norm who have high self-esteem and self respect."
Peter commented: "This is what has happened. We're a forward thinking company and aim to be industry leaders. We have pride and passion in what we do. We aim to give our customers excellent service, great products and overall, real value. We've already achieved a great deal of what we set out to do. Linton is a one stop shop and can provide everything that our customers require. We work in a demanding industry, one which expects a very high level of service and performance, but we can deliver and do so on a daily basis."
Neil echoed this: "Every day brings a different challenge and rarely are two days the same, but we're fortunate that we deal with a broad spectrum of customers spanning many market sectors, so whatever the conditions are in the marketplace, we have a very stable and consistent level of sales.
"With many global factors affecting the daily price of oil it is important we have a continuous stream of market data to assist in making key purchasing decisions. The economic downturn has seen a strain on consumer budgets, which in turn has made them more adept in their buying. Maintaining acceptable margins to ensure retained levels of profitability is essential to our future growth."
Linton will be celebrating its ruby anniversary at a company golf day later this month and also plans an event in Wandsworth over the summer. Here's to the next ten years…..