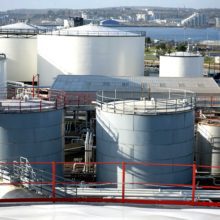 Profits in the year ended April 2012 climbed to £25.3m versus £13.9m a year earlier, according to an annual report. Sales increased to 10.9 billion litres of fuel from 9.9 billion litres, increasing the company's UK market share to 23.2 per cent.

Greenergy mainly uses naphtha as feedstock in petrol, which is trading close to the lowest price in almost seven years.

"This year, the price of naphtha fell relative to petrol, making it a cheaper component than at any time in the past five years," the report said. "The outlook for the next twelve months is for relatively cheap naphtha to continue to support our petrol manufacturing margins."

Andrew Owens, Greenergy's CEO, said: "Our petrol manufacturing margins were significantly stronger this period than the previous year due to lower raw material costs."

Greenergy has agreed to buy the Coryton refinery, with Shell UK and Vopak, and may make an initial public offering if additional capital is required for further opportunities.

Greenergy is number 3 in the Sunday Times Top Track 100 of British private companies with the biggest sales.