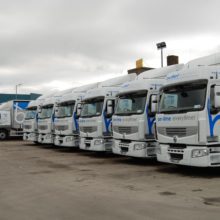 Bullet Express chose the Navman system after exhaustive trials found it to present highly accurate data in an easy to interpret format.

David McCutcheon, managing director of Bullet Express, explained: "We saw great improvements in the driver's performance over the two week trial; the system helped them improve in all areas and we saw our drivers achieve the 85 per cent performance standard we had set."

Bullet Express have also included Navman Wireless' MNav 760, an integrated navigation terminal and head up training aid, that reports real-time performance statistics to the driver. David believes this 'trainer in the cab' can help drivers continuously self-evaluate their performance and deliver significant savings.

"We wanted to give our drivers the tools to improve their performance. Knowing in real-time when they are underperforming helps them continually learn and enables them to take the training we provide on to the road."

Bullet Express also chose Smart Telematics to help with reducing fuel consumption and to help with minimising the company's impact on the environment.