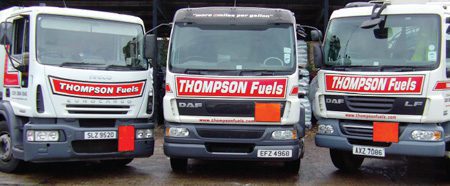 With a company slogan, "more smiles per gallon", Northern Ireland based Thompson Fuels has established a reputation as a happy and helpful team, willing to go the extra mile (and smile!) for customers.
The company has evolved during the years. It was established in 1968 to provide a coal delivery service. Ten years later, the family business diversified into oil sales, starting off with one oil delivery lorry and one employee. Thompson Fuels was registered as a limited liability company in 1993, although it remained a truly family-run business – as it is today, with three sibling directors: Mark, David and Aaron Thompson.
Since then, the customer base has steadily grown. The company now has 15 tankers and a full-time staff of 30, operating out of five depots. For its domestic customers alone, Thompson has an annual throughput of more than 20 million litres.
"We strive to maintain a modern fleet of lorries with well trained, motivated staff," says Aaron Thompson. "As you can imagine, our business has changed considerably over the years – from coal and bottled gas deliveries being our original main lines of business, to oil fired central heating fuels taking over. However, how things change… coal sales have significantly increased again in recent years."
Although the company focuses on domestic customers, Thompson also deals with both commercial and agricultural clients. And the Thompson "patch" is considerable – covering an approximate 20 mile radius from each of its five depots, located in Tandragee, Portadown, Banbridge, Markethill and Fintona, as well as Belfast and the surrounding areas.
Responding to market demand, Thompson has also diversified into selling lubricants and has recently become a Maxol lubricant agent. "We also retail decorative garden stones for flower beds and rockeries during the quieter summer months," continues Aaron. "And we still maintain a successful coal sales department, which we have developed and grown over the years – from importing and packing our own stock, to supplying retailers and carrying out our own delivery and cash 'n carry services which we operate out of all our depots.
Emergency run-out service
"Our depots also operate an 'emergency run-out drum' service, which has proved to be very popular with the public; they tell us this is very convenient as they can get as much or as little as they need."
It has always been part of the company's ethos to provide the service – and a little more – expected by its customers. "As distributors with a reputation for providing a dependable service to the public, we have to be able to adapt and cope with anything – especially when demand is at its highest during the winter months," says Aaron. "With a reliable, competent staff – and storage capacity in excess of one million litres – we are well equipped to meet public demand, regardless of winter weather conditions.
"We always try to encourage our customers to buy early in the winter, before the cold weather sets in. However, it doesn't always happen. We find that most customers now tend to buy as and when they need it."
Aaron believes that the oil distribution industry has changed over the years, becoming a lot more competitive due to the constant fluctuation of oil prices. But, with so many years experience in the sector, he is philosophical about the future. "As a business, we believe you have to be competitive, but not at the cost of profitability," he says.
"We don't get distracted by what our competitors are doing… we are focused on our own business and concentrate on giving our customers top quality fuel and service at the best possible price! And by doing exactly that, we provide our customers with more smiles per gallon!"
www.thompsonfuels.com