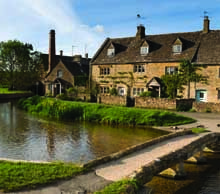 FON recently reported on a Shropshire-based charity that had secured a government grant to help people join a fuel-buying scheme. The £3000 grant is being used to make the scheme available to people who would otherwise be unable to pay for membership



The above group is just one of a growing number of community schemes across the country. And it's not just in oil that such schemes are spreading…

The Big Switch campaign, a collaboration between Which? and pressure group, 38 Degrees, already has more than 60,000 participants. The 'trailblazing scheme' offers energy customers the opportunity to club together to secure optimum prices from energy suppliers. Group-buying firms, Incahoot and Utility Warehouse also offer discounts on energy.

In Oxfordshire, an organic farmer is encouraging community ownership of renewable energy projects. In 2004, Adam Twine, gave locals the opportunity to own shares in the wind farm on his land. Eight years on, he is offering the local community ₤4.5m shares in a new 30-acre solar project.

Back to oil, The Times recently reported on a free website which is taking the idea of community buying onto a national level. www.oil-club.co.uk, which was founded by Chris Brown, combines smaller purchasers into one big body.

Distributor views

Although popular with consumers, community fuel buying groups are not viewed favourably by all distributors. Tony Deakins, of Shropshire based Deakins Fuels, told FON: "I'm very much against such schemes. I don't supply any buying groups, as the majority of deliveries involved tend to be minimum delivery (500 litres) and are often not straightforward. Most of our customers seem to value our level of service and realise that another tier of ordering – for a minimal saving – simply removes them from any close relationship they may have with their distributor."

Shropshire distributor, Oakleys Fuel Oils is not totally against buying groups, but does have some reservations. "There's nothing wrong in principle if a group consists of a few houses and involves a sensible size load. One tanker delivering to a small, close-knit community is a sensible option for both parties. When groups start to spread county-wide, deliveries are scattered and the members want the oil unrealistically cheap, then it simply doesn't work."

Talking about the aforementioned Shropshire scheme in particular, Richard says he was shocked that Oakley's, as one of the county's biggest distributors, was not asked to supply the group. He also thinks that distributors are inadvertently giving buying groups more leverage by quoting inflated prices when they are not interested in supplying, rather than simply declining. When the group is eventually quoted a more realistic rate, it will then claim to have delivered its members a large saving.

Richard makes the point that the industry should have a format to adhere to when dealing with buying groups. He also questions: "What do the group organisers get out of these schemes? A lot of these groups are run as businesses. Are they in fact taking a wage? Why don't they just make an honest living out of it and buy a tanker themselves?" This is a sentiment echoed by Tony Deakins, who also questioned the role of group co-ordinators.

Hingley and Callow director, Helen Needham, made her feelings on the subject quite clear: "Community buying groups – now there's a topic! The bane of our life! And, which bit of community buying allows the organiser to take more of a margin than us the supplier?! I had one the other day wanting to take 4ppl!"

Mark Askew, chief executive of the Federation of Petroleum Suppliers was recently quoted in The Times as saying: "Small, local buying groups in a neighbourhood can benefit from the saving the distributor makes on travel time and costs. However, size is not always a benefit when purchasing oil through buying groups. People should be realistic about the level of savings."

Oxfordshire initiatives

In a bid to save money and make their village a cleaner and safer place to live, residents of West Challow, Oxfordshire, operate an oil buying group. Local distributor, Sweet Fuels, has been supplying the group for three years, and also supplies a number of others in the area. Owner, Adrian Sweet said: "We supply about 20 groups in total. For the majority of these groups, we deliver once a week, offering members a discount off the ring round price. It works really well. However, we don't supply the larger buying groups who routinely contact at least 10 companies to negotiate the cheapest price."

According to a recent article in the Banbury Cake, residents across Oxfordshire are benefiting from the roll-out of a scheme, which has already saved thousands of pounds. The scheme, which was originally launched in 2010 by Oxfordshire Rural Community Council (ORCC) and Chris Pomfret of Community Buying unlimited, has saved householders a reported £71,151. The initiative, which requires residents to pay an annual fee of £20 and place their order through a local co-ordinator, has now been rolled out in 19 of Oxfordshire's 37 Rural Community Partnerships.

Peart partners housing association

In North Yorkshire, F. Peart & Co has partnered with Broadacres Housing Association, offering an oil scheme to help residents take control of their energy bills. Broadacres Housing Association, which provides a range of services to over 5200 homes, sought a solution for its tenants, who sometimes find it difficult to purchase heating oil in bulk.

"We were concerned that a number of our residents were living in fuel poverty and couldn't afford the cost of their oil upfront, so we decided to set up a contract with an oil distributor to resolve this issue," explained a company representative.

As part of the scheme, residents are not required to pay any bills at the time of delivery and instead a direct debit is set up with the housing association, which then pays F. Peart & Co direct. Laura Jackson, business manager at the company, said: "Paying by direct debit is the safest and simplest method of payment and gives the tenant peace of mind that they've paid on time. A regular monthly payment also makes it easier for customers to budget for their heating oil."

Since its launch, 154 residents have joined and are now benefitting from the initiative.