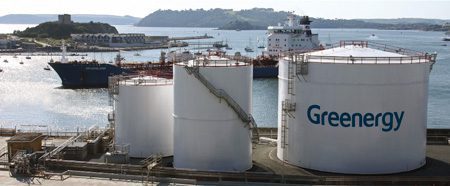 Founded in 1993 by Andrew Owens, Greenergy is now both a manufacturer and a terminal operator with a 'hugely productive' supply chain.  The company sold 9.9 billion litres of fuel between 2010 and April 2011, making it the largest supplier of road fuel in the UK with over 22% market share.
Greenergy was founded to supply sulphur free city diesel; at that time a specialist smog reduction fuel. Over time the company moved into the supply of mainstream fuel to the retail sector, developing a specialism in blending biofuel in response to concerns about climate change.
Today, Greenergy supplies fuel to the largest fuel buyers in the UK – supermarkets, oil companies, fuel resellers, bus and commercial fleet users.  It has continued to grow rapidly, experiencing a 25% growth in sales volume during the last year while the UK market overall contracted by 1.5%.
Greenergy employs 114 staff at four offices, with 60 working at High Holborn in London and 40 at its Manchester office, set up three years ago to handle invoicing, payments, haulage and customer services.  Offices in Sao Paulo in Brazil and Georgia in the USA manage biofuel sourcing and trading.  The company operates a dedicated fleet of 110 articulated trucks to
make deliveries to its customers, using additional vehicles during periods of heavy demand.
Fuel Oil News recently interviewed Greenergy's chief executive, Andrew Owens.
Investing in infrastructure
"We've made some significant infrastructure investments in order to create the most efficient supply base," said Andrew.  "We now have blending facilities at Thames and Teesside, own storage facilities at Plymouth and a production plant at Immingham to manufacture biodiesel from wastes.  In early 2012, we're due to open new storage facilities in Cardiff, where we'll be using trains to move fuel between terminals for the first time.  We also have a storage presence in three other terminals and access rights from a further 9 third party terminals.
Working with resellers and independent retail dealers
Greenergy has supplied resellers over many years, but these have not historically been its core customer base.
"We would like to do more with resellers and independent retail dealers," Andrew remarked.  "Over the last few months, we've been receiving enquiries from dealers and resellers worried about the commitment of oil majors to the sector, refinery closures and policy changes. The market is seeing major change with the removal of brand support and tightening credit terms, so these are worrying times for retail dealers.  We see an opportunity to launch a new and original supply offer tailored to the needs of this sector.
"As part of our strategy to do more with resellers we're also hoping to supply more kerosene going forward.  Presently all our terminals are being re-configured so they can handle kerosene when the time is right."
Biofuels – growth with complexity
"Although total fuel usage is declining, biofuel demand is increasing," Andrew told FON.  "You'd be hard pressed to find diesel in the UK without a bio element nowadays – that's a chunky quantity of biofuel."
Greenergy blends biofuel into its petrol and diesel and also sells ethanol and biodiesel independently to oil majors.  "Although biofuel only accounts for 10% of our business by sales, it's certainly the most complex.  When we supply fossil fuels, it's the price and quality of the fuel that's important to the customer.  But biofuels are more like a food chain product – we need to get the price and quality right, but we also need to demonstrate provenance.  We even have to know the field or waste source where the bio feedstock came from!"
So are biofuels viable? FON asked.  "Well, there's no plan B. The new crude reserves being discovered are in places that are increasingly hard to explore.  We need other alternative liquid fuels to take off the pressure."
Becoming more visible in South America and the US, Andrew says the company could develop further in this area in the future.
The oil price – sucking liquidity out of the economy
When asked about future oil prices Andrew said he had no forecast as such, but he was concerned about the impact that high oil prices could have on the country's financial health. "When crude is high, money goes on foreign oil, sucking the liquidity out of the UK and European economy. The underlying oil price is therefore a concern for all."
The biggest challenge – a declining market
Asked about his biggest challenge, Andrew replied:  "How to deal with a declining market.  For many retail operators, margins have dropped below operating costs, so I don't think it's realistic to expect the rate of terminal and petrol station closures to slow.  The challenge is to maintain the breadth of infrastructure as volumes continue to decline.  Everyone will need to find efficiencies.
"The implication of a declining market is particularly profound when looking at investments.  The industry needs to take a 10-year view when assessing investment opportunities. If we decided to refurbish a terminal today, it would take a minimum of three years before it became operational and we would need a five-year payback.  The market by then is likely to be much smaller, making the business case a challenge.  Thus, over time it gets harder and harder for the industry to maintain itself."
Optimistic or pessimistic?
Already the 'unseen backbone of the supply chain,' Greenergy is looking to operate more terminals.  "As the lowest cost and most efficient operator, a declining market is actually a growth opportunity for Greenergy.  We're not looking at owning retail or refineries but we are interested in anything in the middle such as shipping, trucking, pipelines and terminals. Service-focused, we want to look after the supply chains that serve the retail brands, and grow by doing more for our customers while staying invisibly in the background.
"I want to make Greenergy a really good company – not the least bad.  We have high resilience, excellent stock availability and our fleet accuracy is sensational.  I'm so proud of everyone for the work they've done to get us to this level."
Greatest achievement
Andrew knocked on many doors to start the business that is today's Greenergy.  Formerly, an oil trader based in Geneva, he studied chemical engineering at London's Imperial College, before spending three years with Esso at its Fawley refinery.
So what would he say is his greatest achievement to date?  "The achievements are not individual but collective," he said.  "Winning large contracts and developing new marketing ideas – there've been lots of milestones but no single thing really stands out.  Most achievements tend to have been done by other members of the team.
"We've invested in the supply chain and in sustainability.  On volumes, we're more sustainable than all the other players put together – that's an achievement."