A growing sector
While the CCS projects that can achieve this that are currently operational are still nothing to talk about in terms of numbers, there are a significant number of proposed and planned projects, and growth in this sector is rapidly accelerating.
It is worth considering briefly the two different technologies under consideration: carbon capture and storage (CCS) and direct air capture (DAC). In the first the carbon is captured before it is emitted from industrial processes such as power plants, and factories such as cement concrete, steel and chemical plants. Use of the second technology captures CO2 directly from the air.
CCS is by far the most widespread technology and comes in several shapes and forms, with its sister category of carbon capture, usage and storage (CCUS) also frequently adopted and the approach used by most of the proposed UK projects. CCS would just capture the carbon and store it in the ground whilst CCUS involves capture and storage for utilisation in materials like concrete and cement.
Overview
The Government's 10 Point Plan, published in November 2020, established a commitment to deploy CCUS in a minimum of two industrial clusters by the mid-2020s, and four by 2030 at the latest. The East Coast Cluster (ECC) and HyNet were named as the UK's first two clusters under Track 1.
In July of this year, Prime Minister Rishi Sunak announced the selection of another two carbon capture and storage (CCS) projects, to further enrich the development of Britain's carbon capture, usage, and storage (CCUS) industry. These two clusters, which are part of Track 2, are expected to be up and running by 2030.
The announcement attracted some scepticism, especially as it was reported in conjunction with a series of new North Sea oil and gas licenses. That compounded the argument made by critics of the technology that it is just an excuse to continue using fossil fuels on a business-as-usual trajectory.
However, if done correctly, CCS can be a critical component in reducing emissions as well as delivering increasing investments in clean energy technology. In fact, both the Intergovernmental Panel on Climate Change (IPCC) and The International Energy Agency (IEA) agree that CCS will be a necessary component to give us a chance to meet climate targets.
What is the UK doing?
In the July announcement, the UK government identified two CCS clusters which they said contributed to their ambition to capture and store 20-30 megatonnes per annum (Mtpa) of CO2 by 2030 describing the Acorn and Viking transport and storage (T&S) systems as being best placed to meet the UK's CCUS targets.
This is, of course, only a fraction of the 331.5 Mtpa the UK currently emits.
While many CCS projects have been announced across the UK, the largest and most significant one opened last year. Tata Chemicals Europe's (TCE) site in Northwich, Cheshire, will be the first in the world to purify and liquefy carbon dioxide as a raw material to make bicarbonate of soda. There are currently no active commercial applications of CCUS in the UK.
Opponents of carbon capture projects
There are, of course, many critics of carbon capture projects, ranging from the ones who say they do not work, to the ones who argue that, by putting such projects forward as a viable solution to net zero, we are just prolonging the use of fossil fuels and granting the fossil fuel industry a license to continue to pollute and business as usual.
It is important to underline here that even proponents of CCS and CCUS projects acknowledge that, with today's technology you cannot, at least not yet, capture all of the carbon, meaning that there will always be a level of emissions. With this in mind, the long-term priority should still be to phase out fossil fuels and CCUS should not, in any way, slow down the clean energy transition. It is, instead, to be seen as a measure that buys us time.
While excited about the potential of the technology, for Laurence Brown, Partner at Intellectual Property law firm EIP, the main criticism was the timing: "The announcement was made hand-in-hand with new oil and gas licenses as if it's a free pass for increased fossil fuel emissions. Of course, it isn't, but the potential for UK CCS is huge and the Government is right to pursue it.
"There's enormous development needed to reach the 20 to 30 million tonnes per year target by 2030. If the technology can work on that scale by the 2030 deadline, it opens up much opportunity. The latest patent filing data shows that the industry is stepping up to the challenge, with more patents for CCS filed than ever before in 2021."
Future jobs, training and the prospects for oil and gas professionals
Away from climate targets, getting CCS and CCUS projects off the ground is seen as a key component of an industrial strategy for the UK that has never been more important as the sector attempts to 'find its feet' post-Brexit.
Along with offshore wind, floating offshore wind and electric car and battery innovation, carbon capture can bring many new jobs to the UK. It can be seen as a perfect mixer for phasing out fossil fuels, as many of the skills offshore oil and gas workers have could be deployed offshore in the carbon capture clusters announced in the North Sea.
While it is critical that new skills development and training plans are put in place, in particular when it comes to workers in the oil and gas sector, CCS and CCSU projects have been earmarked as the perfect transition sector. A recent survey identified that over 90% of oil and gas personnel have medium to high skills transferability. This puts them in a strong position to work within related energy sectors such as carbon capture technology.
While oil and gas workers will be in high demand to work in the soon-to-be booming carbon capture sector, it does not stop here. Workers in engineering, finance, operations, HR, HSE, commercial, business development, marketing, procurement, supply chain management, project management and technicians would also be well positioned to transition into carbon capture technology.
Start now
With CCS and CCUS projects expected to boom in the coming decade, at the same time that the fossil fuel sector will gradually be phased down, it is more likely there will be a shortage of workers due to the surging demand rather than a rise in unemployment due to lost oil and gas workers. The demand created by the surge in CCS and CCUS is likely to be so high that workers transitioning from the oil and gas sectors will not be enough to meet it and a new workforce will be needed. It is critical to start now with the training of young people for careers in carbon capture technology and all the supply chain jobs that are vital for the sector to thrive in the UK. CCUS is already becoming a major part of the energy and manufacturing sectors and, with a host of carbon capture clusters now announced across the UK, this growth shows no signs of slowing down. It is now a question of not if but when this sector so critical for emission reductions will explode. When it does it is critical that UK workers are ready for the jobs and opportunities will be plenty.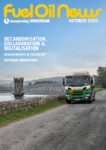 This article originally appeared in the October 2023 issue of Fuel Oil News magazine.
View the magazine