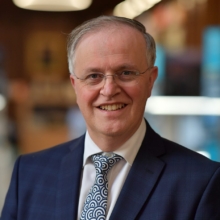 Speaking after the minister's speech in Manchester, Logistics UK's chief executive David Wells OBE highlighted the issues currently holding the industry back:
"Logistics delivers big public value on small margins, ensuring the availability of the products that households, businesses and public services rely on every day," he said.
"Our members are fully committed to playing their part to help the UK achieve net zero, and have invested in new vehicles, additional safety equipment and driver training to improve air quality and road safety – both of which are key priorities for our sector.
A call for national standards
"However, in response to the environmental agenda, a local patchwork of different schemes has emerged which is driving up bureaucracy and administration for our members and increasing costs for consumers. The wide range of rules and requirements between regions and the ever-changing regulations are simply adding costs and complexity to the task of moving goods from A to B."
He continues: "With national standards for Low Traffic Neighbourhoods, Clean Air Zones, low and zero emission zones, we could achieve the same outcomes for cleaner air and reduced congestion, while minimising costs for logistics operators and inflation for customers. We are keen to see a nationwide, interoperable portal for collecting payments, and consistency in the standards against which payment levels are set, such as stipulating Euro 6/VI for diesel, Euro 4 for petrol and Euro 3 for motorcycles.
"Our industry wants to see traffic flow improved and pot holes fixed, and looks forward scrutinising the details on the announcement, but our industry also needs a fair, standardised approach nationwide for charging logistics operators. This would enable the sector to budget more effectively and invest in the green transition while keeping costs down on the shelves."
Lack of vision
Speaking after Mr Harper's speech, Mr Wells was disappointed at the lack of vision shown by the minister at a time when, as he explained, logistics has the opportunity to drive productivity and help to reduce the inflation which is affecting the economy. As well as speeding deliveries to the end user and reducing the costs of decarbonisation to all, recent research by Oxford Economics and Logistics UK identifies that government backing for logistics, including the lifting of barriers that inhibit the sector, could boost annual UK GDP by up to £7.9 billion per year by 2030.
"Logistics is the lifeblood of the economy," he continued, "driving every part of every business. Our members are keen to play their part in progressing the country's passage to net zero but need clarity from government to create confidence and build the conditions from which to invest effectively."