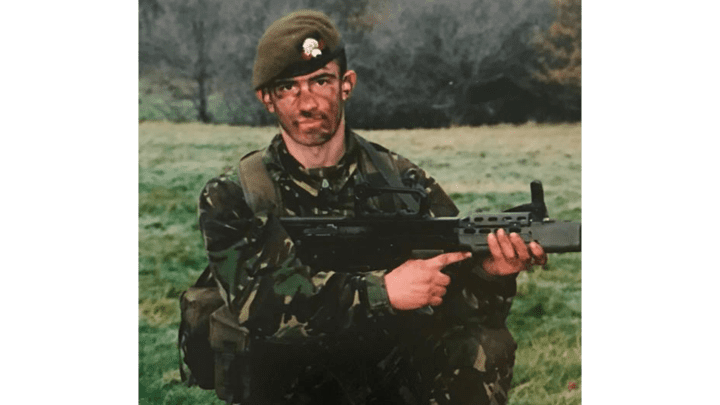 Asda Logistics Services has a two-year established partnership with the charity, supporting its mission to prevent homelessness and unemployment in the veteran community.
Asda made the significant donation to Veterans into Logistics in November and the charity is thrilled to announce that Wez Thomson is the first veteran to complete his Class 1 HGV training and will be starting a new driving career with Asda.
Impressed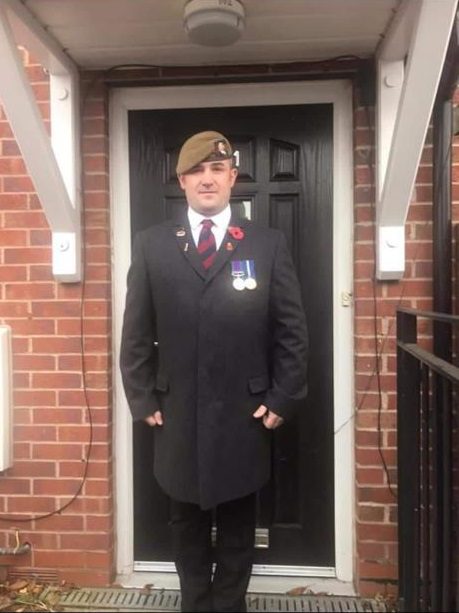 39-year-old Wez joined the British Army after leaving school in 1996 and served for nearly seven years, seeing active service in Northern Ireland and Kosovo with the Grenadier Guards. Married for 12 years, Wez and his wife have been together for 21 years and have three children – a daughter and 19-year-old twin boys.
Wez has been impressed with Veterans into Logistics' efficiency and support whilst getting his Class 1 HGV Licence. He already had his Class 2, but it was too expensive for him to do his Class 1 training himself.
He made contact with Veterans into Logistics Founder and former Royal Artillery Airborne Gunner Darren Wright, through LinkedIn and Darren invited Wez down to the training office.
"I met him and had a few brews with him," Wez shares. "We have the same background and interests. I immediately felt comfortable in his office with the infantry and para flags and memorabilia.
"I must admit I was dubious at first. I couldn't believe that my Class 1 training would all be paid for and provided by Asda and Veterans into Logistics. But it's true, and the process has been so quick! This is so good for my family, and I can now provide them with the nicer things in life.
"I'm grateful for the Asda funding and I'm pleased to be the first veteran to pass my Class 1 Licence and achieve this new driving career. This means so much to me and my family and I'm excited to start. Thank you to Darren and Veterans into Logistics for supporting and training veterans into new careers in the logistics industry."
Take the plunge
"I would encourage any veteran to contact the charity. Take the plunge, I had a new career lined up within weeks, with better money which means a nice family holiday and being able to enjoy a few more of the nicer things in life."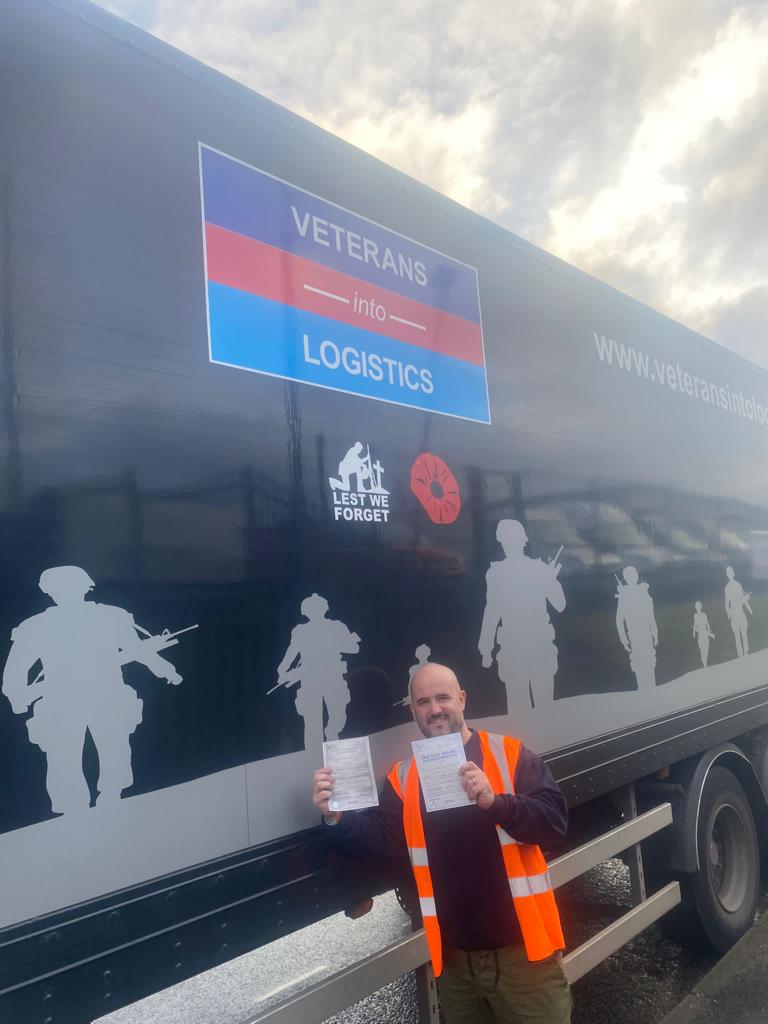 Veterans into Logistics Founder, Darren Wright said: "Myself and the whole team are proud that Wez has become the first veteran to achieve a new driving career with this generous donation from Asda, and Wez's hard work and dedication.
"Alongside our driver training scheme, we also provide personal mentoring and understand the skills, discipline, and hard-working ethos that ex-military personnel have from their careers in the armed forces.
"This new year, Wez will be joining other veterans who have been through our training and worked as HGV drivers at Asda for several years. They have established good careers and importantly say they feel respected and appreciated by Asda. We know that Wez will fit right in.
"We look forward to announcing the other nine veterans who will benefit from this life-changing investment which will give them structure, stability and financial security."
Turning the driver shortage problem into a solution
Rochdale MP, Tony Lloyd said: "Many people leaving our armed forces struggle to find a job; the skills they learn in the armed forces may be relevant but may not be in civvy street. But we would all believe helping ex-service personnel is good for them and their families but is only appropriate for the public service they have already given.
"Wez Thomson is the first to start his new job as an HGV driver with ASDA, and that's good news for him and his family this new year and for many years to come. The Veterans into Logistics charity have done a great job in helping Wez but have given hope to Ex-Service personnel in the future.
"ASDA also deserve thanks, and I know they, like many companies, have found finding HGV Class 1 drivers a real problem, but their support for Wez and support for Veterans into Logistics is turning a problem into a solution.
Councillor Neil Emmott, Leader of Rochdale Borough Council, said: "I am delighted that Wez has secured permanent employment with ASDA after completing his course with Veterans into Logistics. I know that Veterans into Logistics do sterling work in our local communities in getting ex-armed services personnel into full-time employment in the logistics and haulage industry.
"Secondly, we should recognise and thank ASDA for the £40,000 investment they have put into Veterans into Logistics to help our local veteran heroes to find good employment after they've left the armed services."
Upskilling into HGV careers
Melanie Richmond, Training Manager at Asda Logistics Services said: "We are delighted to continue our partnership with Veterans into Logistics with this investment that will help to support 10 armed forces veterans with the opportunity to be upskilled to hold an HGV licence.
"We have been working with Veterans into Logistics for the last two years, helping them with their vision of supporting and rehabilitating ex armed forces back into work and civilian life and the next step of their life journey."
Veterans into Logistics has had an exceptional first two years by either successfully training or supporting hundreds of ex-military personnel into new HGV driving careers, featuring in a BBC 1 documentary, receiving high-profile ministerial visits from the Cabinet Office and being awarded the prestigious Gold Armed Forces Covenant for their support to reservists, service leavers and the veteran community.