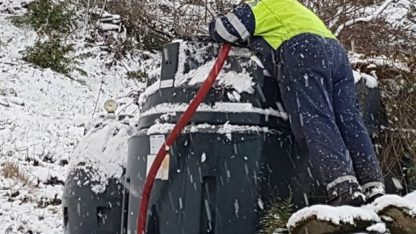 "We live in interesting times" is an overused cliché these days. If you look up the phrase, you find it may have come from a Chinese curse. Cursed or not, we live in interesting times in terms of energy policy in this country – the number of U-turns on technologies such as shale gas and onshore wind in the last two months has been breathtaking in the context of modern political history.
Political turmoil, post pandemic woes and a war involving one of the world's largest energy producers aside, we mustn't lose sight of the real issues and the tremendous impact these are having on our customers, not only right now but also into the future. This is what is focusing minds at UKIFDA.
The government, having accepted our advice earlier this year that a price capping mechanism in our industry was undesirable, unworkable and counterproductive, announced in September that it was giving £100 to each domestic off-the-gas grid customer and equivalent support to businesses. (now increased to £200)
This announcement was made without any fundamental understanding of how it would be achieved. Simply, our market is one of the country's most competitive energy supply markets; for years, it has delivered fuel to customers at prices as close to the current market as possible. A consequence of this high level of competition is customers have accounts with multiple distributors because of their ability and willingness to shop around. So, giving £200 to each account holder is not possible.
Need for centralised data
UKIFDA took a pragmatic view – it is not our place to comment on the help being provided, but on behalf of our members' customers, we should help the government to find a pathway to put the money into customers' hands as quickly as possible. This situation has highlighted, and I make no apologies for repeating myself, the lack of centralised data in this sector. The reality should be that giving £200 to every one of our customers should not be this difficult – something UKIFDA will explore more in 2023.
Just before the clocks changed, we issued our customary advice to customers to start thinking about winter and urging the more vulnerable to contact their distributors. This activity is probably more important this year than ever before. Our advice called "5 Ways" explored not just the pragmatic things customers can do but also provided information about the guidance and support that is available to help them pay their bills.
While waiting for the £200, it is clear customers are taking longer than usual to fill their tanks. I believe this will bring strains on the system later in the winter – we are talking to government about both supply and demand because we can't blindly accept that the market will deliver – we should by now be once bitten….
Overwhelming support
Alongside the current cost of living situation, we are urging the new government to look again at how it can realistically give rural customers a choice in how they decarbonise. We know from our customer surveys there is overwhelming support for renewable liquid fuels because they are easy and non-disruptive and require a limited upfront investment. By creating a sector-wide renewable fuel obligation and a duty system that favours lower carbon fuels, the government could achieve these goals with limited cost to the treasury. Through the work done by UKIFDA and OFTEC and supporting organisations, we have demonstrated this can work and that the sector is ready to go.
Stay up to date with the Future Ready Fuel news here https://futurereadyfuel.info/latest-news/
Whether interesting times is a curse or not, I favour the view of President Kennedy in the 60s when he said the times were "more open to the creative energy of men than any other time in history" – as true today as it was then.