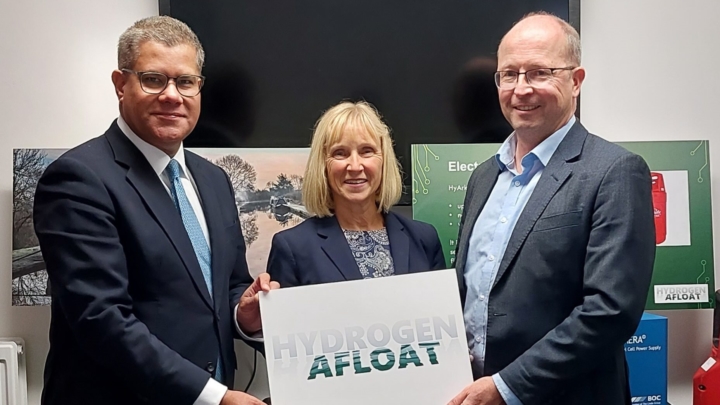 The team at Hydrogen Afloat Ltd, based in Theale near Reading, discussed with Mr Sharma the urgency of the climate crisis and the part we all play in finding solutions.
Around 35,000 people in the UK live on boats, and Hydrogen Afloat is revolutionising how they can power their homes in a greener way – through its innovative hydrogen fuel cell-based domestic power systems for narrow boats and inland waterway vessels.
Dependent on carbon-based fuels
Hydrogen Afloat director Nick Swift, a chartered engineer who himself lives 'aboard' said: "We're delighted that Alok found time in his busy schedule to visit us.
"The canals and rivers of the UK are currently heavily dependent on carbon-based fuels, like most parts of society. Introducing hydrogen fuel cell technology for domestic power is a first step on a path to decarbonising the 6,500-mile UK network by 2050."
Nick shared with Mr Sharma his experience of the challenges of living aboard in the UK.
"Whilst solar works well in summer, in winter electrical power to live by has to be made by running generators or idling boat engines, both methods that create local pollution and noise," he said. "I solved this problem by integrating a hydrogen fuel cell into my narrowboat which provides silent, pollution free power at point of use.
"Now Hydrogen Afloat Ltd can share these benefits will fellow boaters."
Innovating with hydrogen
Celia Greaves, chief executive and founder of the UK Hydrogen and Fuel Cell Association – the leading hydrogen association in the UK – was on hand to support Nick and commented: "Hydrogen is vital in reaching net zero and we need comprehensive strategies and support to ensure the UK is at the forefront of this worldwide effort.
"It's exciting to see hydrogen being used in such an innovative way on aboard narrowboats – and shows the flexibility and important role it is playing as we strive for this target.
"We are calling for MPs to get behind us in pushing for regulations that will make deployment easier for all industries, so it was great to meet with Alok with Nick and hear more about Hydrogen Afloat's exciting plans to bring fuel cells into this leisure application.
"The UK HFCA has more than 100 members, companies large and small across a wide range of industry sectors. Hydrogen Afloat is certainly quite unique even for our diverse membership and it will be interesting to see how this business develops over the next few years."
Mr Sharma said: "It was great to visit Hydrogen Afloat and meet with Nick Swift and learn about the business and their plans.
"It is encouraging to learn that a business in the Reading West constituency is working on decarbonising our waterways."
Photo shows from L-R: Reading West MP and President of COP26 Alok Sharma, UK HFCA Chief Executive Celia Greaves and Hydrogen Afloat Director Nick Swift. Credit: UK HFCA