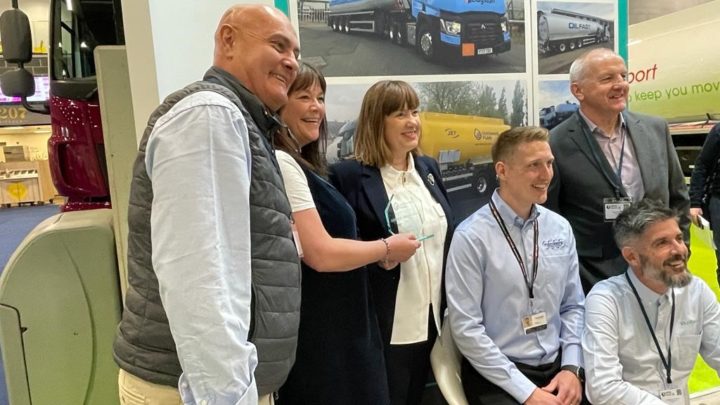 Janet Kettlewell, co-owner and director at Kettlewell Fuels commented: "The impact of climate change and the need for us all to be mindful of the environment is clear. As well as fulfilling our customers' changing requirements, we are investing in transport solutions that will enable us to deliver traditional fuel types and new products such as biodiesel and HVO. As part of our forward planning, innovation within the rigid tanker market is of interest. We added two new vehicles to our fleet, which will ensure we can deliver multiple fuel grades to a wide range of customers."
Latest build and metering technology
Manuel Sanchez Suarez and Fernando Gomis Garcia of COBO also attended the presentation and explained how COBO incorporates technology that allows all its pipes to be developed without the need for welded joints, neither in elbows, nor in clamping flanges to the valve.
This innovative system achieves the total elimination of stresses and fatigue typical of welded joints. It also reduces discharge time due to the elimination of the typical interior clearances of the welds and eases the assembly and disassembly of pipes during maintenance and inspection work.
Janet commented: "Our new vehicles deliver market-leading efficiency, giving us even more versatility within our already flexible fleet. We also like to ensure our drivers are looked after in terms of comfort. I'm pleased to say we've had some great feedback from them – apparently the new tankers are comfortable and nice to drive too."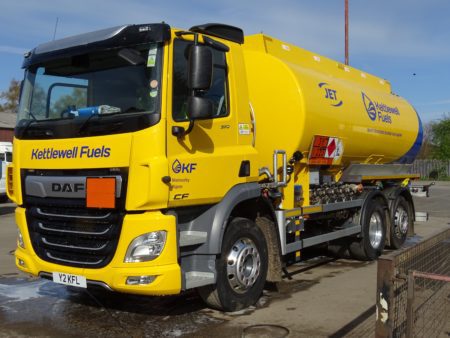 Benefiting from automation
Brad Wilkie of MechTronic was also present with Kettlewell Fuels being a longstanding customer. The distributor uses MechTronic's technology across its fleet and is already running the OptiMate electronic metering system and benefiting from reduced delivery times and the prevention of fuel contaminations thanks to the range of automatic processes available.
"As we prepare for the new fuels we know that the OptiMate system can accommodate all fuel types," Janet shared. "OptiMate supports and automatically performs a line change during the fuel delivery process. It removes the need for the driver to calculate a line change manually, which is particularly beneficial when carrying mixed fuel loads. Drivers can continue with their deliveries safe in the knowledge that they are supplying clean fuel to customers."
Kettlewell Fuels also uses the ProControl 3 remote, which ensures that drivers can remain at the point of delivery throughout the entire process. They can remotely turn the cab engine off and although minimal, wider environmental impacts can also be achieved.
Janet concludes: "As an independent business, we pride ourselves on reliability and supporting our domestic, agricultural and commercial customers across our region. It is essential that the equipment we purchase is reliable and efficient – we feel that adding this build to our fleet provides this."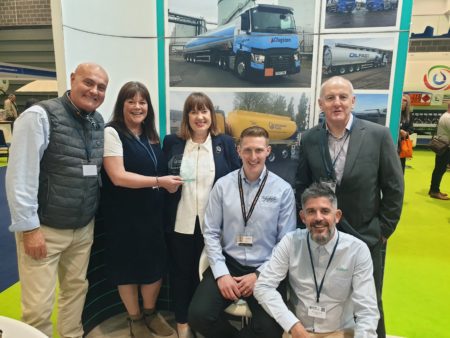 Margaret Major, managing editor of Fuel Oil News, who presented the award to Janet commented: "It is always a challenge to pick the winning tanker from the numerous excellent entries we receive each year, but the winning tanker was chosen for its innovation, design and drive towards greener fuel deliveries for Kettlewell. Congratulations to Janet and Trevor and all those involved in this build.
If you have a tanker you would like to enter for the 2022 title please send details of the build and what it offers to your business, together with a photograph to claudia@fuelollnews.co.uk, and we could be adding your company's name to the 19 previous winners.
With entries accepted until 31st December 2022, there is plenty of opportunity to enter a new tanker which you believe gives that added extra to your business.
The result will be announced in February 2023.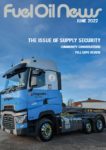 This article originally appeared in the June 2022 issue of Fuel Oil News magazine.
View the magazine