In an industry where the most successful businesses are those which constantly evolve to meet the changing needs of the communities they serve, at the same time as retaining the traditional values and unbeatable service on which they built their success, there is no better example than Northern Energy.
Margaret met with managing director Stuart, his father Howard, from whom he took over the reins in 2020 and Stuart's Gran, Muriel Illingworth, mother of Howard and daughter of Ralph Robinson, the founder of the business, at the delightful Sophie's café in the High Street in Hampsthwaite.
Where it all began
It proved to be the ideal setting to begin the journey through 90 years of this fourth-generation family business, with the café sitting on the High Street facing the very building where it all began.
Muriel delights in taking me back in time to the days when "It was milk churns that were sat outside waiting to be delivered," as she looks across the road. Painting a wonderful image of a company that, from the start, has seen an opportunity to fulfil a need and grasped it, Muriel explains how her father, Ralph Robinson, happened across a local farmer who had missed his train to take his milk churns to sell in the city.
With the farmer accepting Ralph's offer to take his milk to the dairy for him, the business had its beginnings on that day in 1932, with the first flat-bed wagon following shortly after. The milk collection service was extended to farmers throughout North Yorkshire, and the number of trucks grew.
"My father soon realised the waste of bringing back empty trucks," Muriel continues, "so he began to bring back coal from the city to sell to the many local farmers."
From this initial foray into a fuel collection service, the energy business emerged, with
R. Robinson Haulage, as it was then known, expanding its fleet rapidly to service a customer base that quickly reached over 200 customers.
Clearly with an eye for efficiency, Ralph also added a garage at the Hampsthwaite site to fix the trucks, with a car sales business, Rootes Motors, also based there.
Driven by need
Howard takes up the story of the move from milk to oil: "My father, John, joined the business in 1951 and expanded the business further to a network of depots.
"With an increasing demand for agricultural oil, Esso was looking for a partner in the area and approached us, in 1957, to supply to the many local houses and farms."
As Robinsons Petroleum Distributors (RPD), we became an Esso-authorised distributor, some
65 years ago now, moving to oil distribution in May 1957."
"It was really a customer-driven change," Stuart adds. "After more than 20-years' operating in the Dales, the business had already established a strong network of customers as well as a good base of depots, that made it very easy to move into this new emerging market.
"Once we started distributing oil we added a new business – Robinsons Heating – which undertook domestic installations and enabled further growth in the market."
This perfect partnership is another example of a company that has, from the start, moved with the times and responded to the needs of its customers.
Fully focused on energy
When Ralph decided it was time to retire, in the mid-70s, the original milk collection business was sold to the Milk Marketing Board and, at that point, the business became fully energy focused – reflecting this in a name change to 'RPD Fuels and Lubricants' in 1979.
With John retiring in 1988, Howard, who came into the business in the late 70s along with his brother David, took over as managing director and relates the "steep learning curve it was" for a young man thrown into the deep end at what turned out to be one of the most challenging times in the business.
"When I was asked to take over the reins of the business, I was still in my 20s," Howard explains. "My father had a very long-standing relationship with Esso and, having been an authorised distributor for over 30 years, it ran through his veins.
"At the time I was asked to run the business Esso were looking to change the deal. Based on the south coast they didn't wish to supply so far north and the new arrangement would have cost us substantially in financial terms."
Little did Howard anticipate that one of his first major decisions at the helm of the business would be to leave the Esso fold – RPD was the first distributor to do so – but, within the next 5 years all the other ADs had followed.
After a brief supply agreement with Total, the business became an independent supplier in 1992 – a decision it has never looked back from.
Independence brings freedom and growth
"For me the decision to go independent was an easy one," Howards says. "It gave us the ability to source product wherever we chose and freed us to map out our own future in energy, especially as we could see a growing opportunity in natural gas."
With a license to supply gas secured, the company evolved to its current identity of Northern Energy Supplies and extended its product portfolio over time to encompass LPG, natural gas and electricity.
Gas and electricity presented Howard with another steep learning curve as it became apparent that: "With the Government driving those markets you quickly realise you have no control, and those parts of our business were swiftly divested."
Stuart agrees with the importance of self-determination: "Over the past 30 years Northern Energy has grown both in size and in geographical reach. We supply customers from Alnwick to Skegness and everywhere in between but our decisions have always been our own."
Growth has been both organic and through a few acquisitions in a sector that has consolidated rapidly with many small fuel distributors absorbed into other businesses over the years and others acquired by larger ones.
Family values
"Whatever fuel a customer uses and whatever size they are, our principles are the same – we offer an exemplary service and always look to see where we can add value," Stuart comments.
Muriel agrees that this has always been part of the business for as long as she remembers: "It was never just about the price," she says. "It was important to us to provide extra value to our customers.
"My father always went the extra mile and provided more than just fuel to the community
– it was about service."
Stuart picks up the ethos that has been in the business from the start and still runs through everything it does: "Since we began, we've stuck to what we know, providing an excellent service that keeps customers coming back.
"Our customers know that we care, and if we mess up, we'll move mountains to rectify the situation.
"We're family run, and we really care about what we do."
The fourth generation
In a business that is now in the hands of the fourth generation it is no surprise to hear the emphasis placed on family values.
Succession has always been carefully planned from Ralph to John to Howard through to Stuart – with a wonderful reminder of this heritage in portrait photos of the MDs displayed in the newly refurbished company offices.
Howard's other two sons, James and Ted, also work in the business, as does Howard's brother David. With growth continuing rapidly throughout the 2000s, as more and more homeowners chose Northern Energy for oil and LPG and with deregulation in the domestic LPG market making it easier to switch, 2009 saw the company launch a new division, LPG Home Heat. James was instrumental in building up this new division and is now group sales director, Ted, who joined aged 17, looks after LPG domestic sales whilst Stuart joined in 2013 to run operations before succeeding his father as managing director for Northern Energy in 2020.
With each family member bringing their own experience and skill set to the business they thrive on contributing to the success of a company that offers a greater level of involvement.
"To work towards something that you really care about emotionally as well as professionally is brilliant, not many people have that opportunity," Stuart acknowledged.
Oil and LPG
When we last caught up with Northern Energy, in 2017, the oil business was twice the size of the LPG business by volume.
Stuart succeeded his father as managing director two years ago and his stated ambition was simple – to double the size of the LPG business over five years to become the largest independent supplier of LPG in the country.
It's an undeniably ambitious growth target but one which Stuart is committed to hitting which, coupled with the company's drive to deliver, suggests they has every chance of achieving it.
The trajectory is already looking good, with 2021/22 being the year LPG sales by volume is forecast to match oil for the first time in the company's history.
The future for fuel
In common with all those operating in the sector both Howard and Stuart feel that the future for energy is far from clear but Northern Energy is committed to both its own contribution to fighting climate change and to supporting its customers in doing the same.
As he takes on the mantle for the next phase of the company's journey Stuart comments: "I'm proud to be following in my father's footsteps, leading the way to a more sustainable future."
In addition to the growth in the LPG business, the last five years have seen two other significant developments at Northern Energy –the introduction of carbon offsetting and an exciting brand facelift.
"There are big changes that need to be made as we step towards meeting the government's Clean Growth Strategy," Stuart stresses. "We plan on evolving with the times to offer the bio alternatives to kerosene and LPG when they are readily available and not cost prohibitive to the customer."
"In the meantime, carbon offsetting is just one way we're looking to fight climate change and support our customers in doing the same."
Stuart believes carbon offsetting is part of a wider sustainability strategy and that it is vital that the companies that provide the energy lead the way: "We've partnered with Carbon Footprint, an accredited carbon off-setting business to offer our heating oil and LPG customers the opportunity to offset their carbon emissions from the fuel they buy. The business' own carbon consumption from activities at head office and fuelling our vehicles is also being offset and, to date, we have offset 50 million litres and planted over 5,000 trees."
A brand fit for purpose
As the company looks to the future, another exciting project was the development of the new brand that was facilitated by Leeds-based 'North Project' and involved all the staff.
Stuart explains the importance of it: "With our aim to double the size of our business it was important that we had a new brand that was 'fit for purpose' and that gives us a clear foundation for growth and diversification."
"The buzz it created in the office was brilliant to see," Stuart enthused. "The whole team got involved in thinking about what our brand actually stands for, what our values are."
The offices where the staff are based underwent an impressive makeover in recent years and it is evident, from the smiles, enthusiasm and feedback from the team based there that it has been well-received. Bright, airy surroundings with excellent amenities all add to the sense of service that runs through the core of the business and graphic representations of the brand values, created in the project work, are interspersed with historic and current company images to create a real sense of what Northern Energy is all about.
A new website was also created with eCommerce capability, video, a 'Go Greener' offering and, finally, an interactive values page, and the team are delighted with the end results: "The feedback from customers has been overwhelmingly positive. I am confident that our new brand and understanding of our brand values is helping us achieve continuing business growth."
In the café the Illingworths were clearly not just well known but also well liked and highly respected and appreciated members of a close-knit local community.
As Stuart puts it: "Only a tiny percentage of businesses thrive for as long as ours has and our working relationships are stronger than ever. Each family member's skills are used in the right way."
"It's our strong, family values that the business is built on and which will ensure its continued success."
It was a privilege to hear Muriel's recollections, not just of the early days of the business but of life in and around Hampsthwaite over her lifetime, and I hope it won't be another 5 years until I return to hear more.
Meeting three generations of the family, it is clear that the same values and great service that were established by Ralph Robinson in 1932 continue to the present day and are pivotal to Northern Energy's success – long may that continue!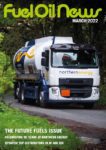 This article originally appeared in the March 2022 issue of Fuel Oil News magazine.
View the magazine