In March's edition, with its focus on future fuels for transport, we thought it would be the perfect time to chat with David Wells, the chief executive of business group Logistics UK, who was awarded an OBE in the recent New Year's Honours List for his services to transport and logistics.
Give your career history in 25 words or fewer
Engineering graduate, qualified as management accountant in engineering and distribution businesses in UK, EU and USA. Joined Logistics UK in 2009, became CEO in 2015.
Describe yourself in 3 words
Quiet. Determined. Loyal.
What's your most recent business achievement of note?
The recovery of Logistics UK's finances following the pandemic.
Tell us your greatest fear
Failure.
Which is most important – ambition or talent?
Talent.
What were your childhood / early ambitions?
To be a farmer, driving the recently launched Range Rover.
Describe your dream job (if you weren't doing this?)
This is it.
What's the best business advice you've ever received?
Never leave any business partner on bad terms.
Share your top tips for business success
Have a clear strategy, a coherent plan and good people.
What's the best thing about your job?
Variety.
Which is the quality that you most admire?
Staying calm in a crisis.
What are you most likely to say?
Let's fix it.
What are you least likely to say?
I don't want to know.
Describe your perfect day
Both sons at home, pub lunch with all the family.
Do you have a favourite sports team?
Tottenham Hotspur.
What's the biggest challenge of our time?
Net Zero.
Cheese or chocolate?
Cheese.
Share your greatest personal achievement
An OBE.
What's your pet hate or biggest irritant?
"Your call is important to us" – well answer the phone then!
If you were on 'Mastermind' what would your specialist subject be?
German Shorthaired pointer dogs.
If you were elected to government what would be the first law you'd press for?
Truck driver facilities included in local development plans.
If your 20-year-old self saw you now, what would they think?
Wow – How did that happen?
What is number 1 on your bucket list?
Visit the Grand Canyon.
What 3 things would you take to a desert island?
Gas BBQ, endless supply of books and a tool kit.
Tell us something about you that people would be very surprised by
Eating onion makes me ill.
Who would you most like to ask these questions of?
William Wilberforce.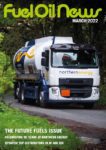 This article originally appeared in the March 2022 issue of Fuel Oil News magazine.
View the magazine