A small but significant aspect of the awe-inspiring £103m project, Tuffa has been tasked with manufacturing a petrol tank for Leicester City Football Clubs' new state-of-the-art training ground. The tank will have the all-important task of fuelling the fleet of maintenance vehicles required to look after the LCFC grounds.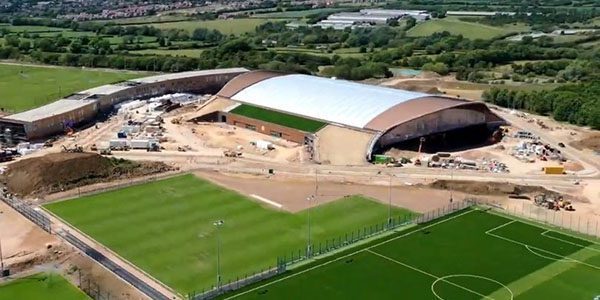 The site is set to be amongst the worlds' leading training facilities. Construction and development giants McLaren Group is responsible for designing and building the grounds which will feature a full-size indoor artificial pitch, 11 full-size outdoor pitches, eight smaller pitches, five training grids and two goalkeeping areas, as well as a hydrotherapy pool, media centre and offices.
Tasked with the job of fighting back the weeds, strategising over grass care, and conserving every inch of the 185-acre plot, a former golf course, to the highest standards is a small army of groundskeepers. LCFC has provided the groundskeepers with the best equipment money can buy. This includes a fleet of around 30 John Deere maintenance vehicles consisting of gators and ride-on mowers. With so many maintenance vehicles requiring between 40 and 50 litres of fuel to fill, McLaren knew that the grounds required a petrol tank onsite.
Fortunately, LCFC was already well acquainted with the reputable tank manufacturer, as the company manufactured a tank and water bowser for LCFC's new Broadcast Media Centre in 2018.
This time, Tuffa was tasked with manufacturing a tank for LCFC with McLaren choosing Tuffa's 975 litre petrol tank, manufactured in accordance with the Blue book guidelines and DSEAR (Dangerous Substances & Explosive Atmospheres Regulations) as standard. Because the tanks are fire-proofed and bunded they also offer protection to the site and environment. Additionally, McLaren chose to upgrade the tank with a Hytek Alpha FC10 forecourt-style dispenser and fuel management system with passcodes to activate the pump and a purpose-built plinth for the tower.
McLaren construction's design manager Spish Buja commented;
"The communication and service levels from Tuffa have been excellent throughout the entire process. The 975 litre petrol tank fits our requirements exactly, the delivery was tiptop and the installation was straightforward."