Now operating on over 250 trucks in the UK and Ireland, the additional benefits that OptiMate brings fuel oil operatives, in terms of saving time, money and preventing fuel contaminations, are behind MechTronic's recent success in both Northern Ireland and Ireland.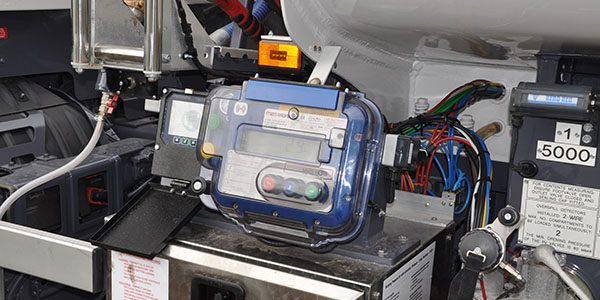 OptiMate is a revolutionary and futureproof system that is developed to meet changing customer demands. Launched in 2016, Optimate has become the electronic metering system of choice as fuel oil operatives face increasing pressure to deliver multiple fuel grades to a wide range of customers within a timely manner. Its unique self-draining manifold ensures the manifold is clear of product before starting a line change and prevents a contamination.
Brad Wilkie, sales and marketing manager at MechTronic said;
"As a family business, MechTronic listens to our customers changing requirements and we are proud that our latest update supports fuel oil operatives to deliver fuel by hose/bulk or gravity – regardless of the delivery, OptiMate will ensure the delivery is metered and accounted for."
Northern Ireland has the largest percentage of domestic homes using heating oil in Western Europe and, in Ireland, 40% of all homes rely on home-heating oil. In July 2019, heating oil prices reached their highest levels since 2014, following four consecutive years of growth. Naturally Covid-19 has impacted oil prices this year however, with more people staying at home, the demand for home heating oil is increasing and prices rising.
This growth over the last four years has helped fuel oil operatives to invest in their fleet and move towards metering systems that don't just simply meter fuel but offer additional benefits to the fuel oil operative.
A range of automatic processes to prevent contamination include Optimate's unique automatic line change procedure where it automatically empties the manifold before introducing the new product and delivers the optimum line change quantity every time. Automatically recognising different line change volumes removes the requirement for drivers to manually calculate volumes and, with busy schedules, drivers may potentially overcompensate in their calculation, resulting in lost revenue.
The flexibility to automatically perform a pre-determined line change or return product quickly without the threat of contamination saves both time and money
Fuel oil operatives invest in OptiMate
In 2018, Lissan Coal Company (LCC Oil) was the first fuel oil operative in Northern Ireland to purchase four OptiMate systems closely followed by Murphy Oils, McLean Fuels and Holden Fuels.
Michael Moran, operations director at LCC said;
"The automatic processes that OptiMate offers in terms of line change protocol was of particular interest to us. We were also impressed by the simplicity of OptiMate and that it can be controlled by just three buttons. It also offers our drivers the ability to amend their route to meet changing customer requirements without worrying about performing a line change."
More recently, fuel oil operatives in Ireland are also making the decision to move to OptiMate with Dundalk Oil, Atlantic Oils and Stewart Oils all placing (and receiving) orders in 2020.
Barry Finlay at Dundalk Oil said;
"We are delighted to be the first fuel oil operative within Ireland to be out delivering with OptiMate. We chose OptiMate as we liked the automatic processes that it offers. Drivers have already commented on how easy the system is to use, and how they are able to make deliveries quicker due to the automatic line changes."