Just 18 months after breaking ground, Europe's most advanced, 100,000 tonnes per annum, used lubricating oil re-refinery, AVISTA Green's in Kalundborg, Denmark, is operational.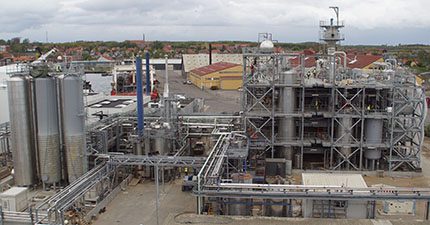 The construction of the re-refinery has been realised through an international joint venture between Germany's AVISTA OIL and Slicker Recycling from Stourport in the UK. They are both among the leading used oil collectors in Europe and responsible for supplying the volumes needed to feed the plant. The used oil is primarily collected from vehicle repair workshops, industrial companies and waste recovery sites throughout Europe and delivered to the plant either by truck or ship, mooring at the company's dedicated jetty.
"We are proud of having succeeded with such a big project in such a short timeframe," said Leon Sloth Skovbo, managing director, AVISTA Green. "Today, we have Europe's state-of-the art re-refinery that transforms used lubricating oil into high quality base oil, turning a waste product into a reusable material, contributing substantially to sustainability and the circular economy."
Despite the worldwide pandemic cancelling the original planned opening ceremony, the AVISTA Green team remain in high spirits and are eager to start production. Following months of hard work, from permitting and planning through to construction and commissioning, the re-refinery is now ready to transform its first litres of used oil.
Environmental profile
As indicated by the name, AVISTA Green has an environmental profile. Passing through the plant, the used oil is up-cycled back into high-quality base oil ready for re-use in the production of new finished lubricants. These lubricants will return to the re-refinery as used oil in a continuous cycle to be re-processed again, both in keeping with the European waste hierarchy and circular economy philosophy. The innovative technology used in the new facility is more environmentally friendly and efficient than conventional processes. Such re-refined base oil emits as much as 30% less CO2 than new base oil produced from crude.
Peter Jonsson, technical director said; "We have managed to keep all the specialist expertise and experience within our company by retaining the core of our skilled process operators during the construction of the re-refinery. During the last months they have been busy training new colleagues."
The new re-refinery has been designed to meet the highest technical, environmental and safety standards. The plant is fully energy optimised including the recirculation of all surplus heat. Modern laboratory facilities are available for total quality assurance, from receipt of feedstock right through to the delivery of the final re-refined base oil. Safety remains a priority where the plant design, equipment, systems, controls and processes have all been implemented to keep employees, the environment and process integrity safe.
Leon Sloth Skovbo added; "We are looking forward to a bright future. The global focus on environment and climate will continue to grow strongly in the future, and here we see ourselves as a significant and important player."