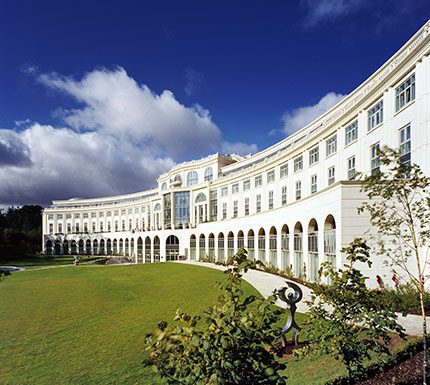 Retail and wholesale customers of Phillips 66 joined the company for the 2016 Customer Conference. With a theme of 20/20 vision: growing together, the two-day event was held at the Powerscourt Hotel in Enniskerry on Ireland's east coast. 
The conference incorporated a mixture of business content, from specialist presentations and open forums, to business to business networking and a mini expo where a number of Phillips 66' key suppliers and industry partners were on hand to share advice, offer demonstrations, and highlight new products and services available to Phillips 66' customers. 
All retail customers were given a copy of the company's new 'Guide to JET's Retail Services' brochure, which pulls together the company's range of retail support services and partner offers available to JET dealers. 
The event also offered customers a range of social activities, including informal networking opportunities, dining options including a celebratory dinner where the 2016 Proud to be Jet award winners were announced, and a range of outdoor pursuits including golf, fishing, falconry, and off-roading. 
"Our conference was an ideal opportunity for us to share JET and Phillips 66' vision for the future and highlight our investment and growth plans across our retail and wholesale businesses," commented Mary Wolf, managing director of UK marketing.
"We were able to demonstrate to our customers our continued commitment to building an organisation that is better aligned with the market and gives added focus to pricing and demand management. 
"We also used the event as an opportunity to gain feedback from our customers, offering a number of breakout sessions so that our guests could choose what they wanted to hear about and discuss. Some of these sessions were open discussions where customers were encouraged to share their thoughts on any matters that they felt were important to their business. These were very well attended, with lots of customer participation and valuable feedback." 
As well as welcoming customers from across its UK network, Phillips 66 also invited industry experts Brian Madderson of the Petrol Retailers Association and Mark Askew of the Federation of Petroleum Suppliers to deliver presentations at the conference.  Also attending the event were Merril Boulton, editor of Forecourt Trader magazine, Brian Mandell, president, marketing at Phillips 66 and Nicolas Hamilton, JET's brand ambassador, who delivered a speech about his personal journey to achieve his dreams and how he overcame many obstacles along the way.
"We're delighted that our customer conference was such a success and plans are already underway for our next event," added Mary Wolf.