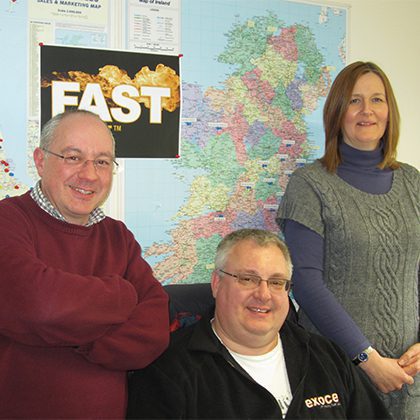 Having the original intention of developing technically superior off the shelf automotive products offering 90% technology and 10% marketing (rather then the other way round); with a small marketing budget and the need to buy shelf space in key outlets, the concept was proving difficult.

However, that autumn, Bob was approached by Mark Haselden, then with CPL Petroleum, about the development of a premium heating oil with added fragrance. Also expressing interest in premium kerosene were James Spencer, then at Bayfords, which went on to launch the new product at nine depots over 7 working days, and Neil Donald, then owner of Southern Counties.

Up to this point, being a diesel and a gasoline man, Bob had never looked at kerosene. Research found much useful evidence in the bigger heating markets of France, Germany, the north east USA and Scandinavia which led to FAST's premium product for pressure jet boilers. Then as problems with AGAs proliferated, the timing was perfect to develop a product for this market too.

Whilst the chemistry was relatively straightforward, finding a company to produce bottles in the desired quantities was a challenge. A Norwich-based company now produces 200, 100 and 50ml bottles for which FAST owns the tooling.

Staff additions

Although by 2008 FAST had found its niche, it was still very much a cottage industry with a staff of two consisting of Bob and his partner,, SallyAnn as company secretary. Bob did all the formulations, bottling and labeling, even going out in a van to make sales.

Enter Charles Southan. Despite a background in selling women's underwear, Charles proved to be a first class relationship builder; Bob credits him with being largely instrumental in growing the business across the UK. Charles' arrival coincided with the need to desulphurise fuel which put huge demands on refineries, resulting in more kerosene being imported with inherent quality issues.

In October 2009, Charles was joined by Tim Carlon. Both recruits had come via the Golden Ball in Ironbridge, a popular watering hole of Bob's. Sales to agricultural and marine markets are covered by Jane Murdock. By April 2010, FAST had 8 employees and when managing director Neil Ryding arrived that July, Bob took up the position of chairman. Working with Shropshire County Council, FAST now offers work placements to young people, some of whom are now in full time positions. In December 2011, chemist Julia Mansfield joined the team.

The right product at the right time

Again in 2011, FAST developed the right product at the right time when the gas oil standard changed and off-road diesel saw a massive reduction in sulphur. With off road vehicles calibrated on white diesel, an additive was needed to bring red diesel up to the DERV specification.

FAST's number one product is still its kerosene additive, now used by over 90% of the fuel distributor market. Its gas oil additive is in second place, followed by Diesel Supreme, a premium additive used by hauliers. Power Restorer, a service tool for agricultural/diesel servicing workshops, which cleans out deposits in the injectors, comes next. Recent cold winters have seen sales of anti-waxing products rise considerably whilst poor housekeeping exposure led to a peak in anti-bug sales in 2011.

To test the performance of its additives, there are two boilers and an AGA which also keeps FAST's Shropshire premises warm and is the focus for a Friday feed up when staff take turns to cook lunch. Agricultural additives have been independently tested by a Lincolnshire-based agricultural machinery dealership.

When a customer has fuel problems, FAST offers a special customer service taking in samples for test and providing an answer.

What's next for FAST?

This month Julia, who produced a fuel quality report last year, will be joined in the laboratory by a new recruit whilst significant investment is being made in the laboratory itself. "The fuel quality report was a real milestone; we went to fuel producers, shook the tree and got factual information rather than the usual fuel hearsay. The perception is that nothing changes in fuel, but believe me it does," said Julia.

The next generation of heating oil additive with a patent pending is FASTFlame, which provides improved boiler efficiency even on new equipment.

FAST recently expanded into Ireland where Jeff Murrells is in charge. "Whilst this market has huge potential, economic woes have made all fuels price sensitive and premiums, whilst beneficial, can put people off," said Neil. FAST has also received supply enquiries from Europe.

Attendance at regional shows has led to 'a massive increase' in recognition of its own Exocet brand. Getting together with a number of agricultural equipment suppliers and fuel distributors to help educate customers about how to store and look after fuel has paid dividends.

"We've come a long way but we're still a small company with multi-skilled staff willing to turn their hand to anything. I always tell people that if they come to work here they leave their ego at the door," said Bob.