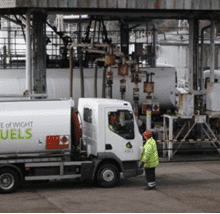 Dave Grannum, general manager of Isle of Wight Fuels said: "This award demonstrates that despite the additional costs and logistics of bringing oil to the Isle of Wight – we're still able to provide fuels to Island homes and businesses at a cost which is in line with mainland suppliers.

"Our aim is to provide high quality products at competitive prices – this award shows that we're achieving this goal.

We're committed to providing an outstanding service and will continue to offer a fair price to all our customers."

Isle of Wight Fuels owns and operates the Isle of Wight's only fuel storage facility and distributes oils and fuels to domestic and commercial customers across the Island. Oil is shipped into the terminal in East Cowes by the company's own tanker, the Rix Merlin. The facility in Kingston Road stores up to three million litres of fuel for domestic and agricultural use, as well as supplying fuel for filling stations, commercial operations and distributors, to keep the Island running.

Community Buying Unlimited placed orders for more than 7 million litres of oil in 2012. Speaking about the 2012 awards, founder Chris Pomfret said: "Last year was an incredible year for community buying groups in general and oil buying groups in particular. These individuals, suppliers and organisations went the extra mile and certainly thought way outside the box to help make community oil buying an even bigger social and environmental success."

www.isleofwightfuels.com

www.community-buying.com

To return to the newsletter click here.