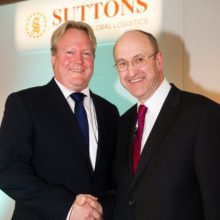 Currently managing director of the Group's International Division, John Sutton takes over the reigns from 1st May and will also join the Thomas Cradley Holdings (TCH) board. John will work with Andrew from now until the end of April to facilitate a smooth and efficient hand-over

"The board and the shareholders would like to express considerable thanks to Andrew for the way in which he has transformed the fortunes of the company, making it a highly profitable and substantial global provider of bulk logistics services with an outstanding reputation for safe, high quality services," said chairman, Michael Sutton.

"John has managed the International Division through a period of high growth and the board looks forward to him building on the excellent work done by Andrew," added Michael.

From 1st May, Andrew will be joining the TCH board as a non-executive director, enabling the Group to continue benefitting from his knowledge and experience. www.suttonsgroup.com

Find out more about Suttons – read Liz Boardman's exclusive interview with Andrew Palmer in the February issue of Fuel Oil News.