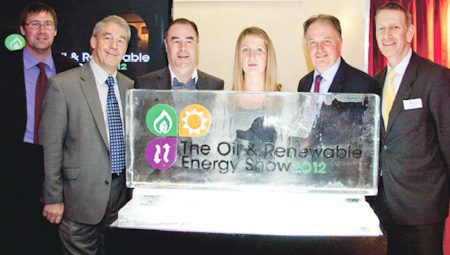 There are two million off-grid homes in the UK and Ireland.  Over the next 20 years, these homes will slowly but surely need to decarbonise.
Along the way, greater energy efficiency of equipment and buildings will play a vital role; alongside the probability of an increasing number of new renewable technologies working in harmony with existing oil-fired systems.
The energy behind the show
Facilitating the way into this evolving marketplace is the Oil & Renewable Energy Show.   Organised by A&D Publishing – publishers of Fuel Oil News, Oil Installer, and Renewable Energy Installer – this national exhibition will be held at Manchester Central conference and exhibition complex on October 17th – 18th.
Speaking at the official launch earlier this year, the show's commercial lead, Jonathan Hibbert, said:  "This show is about oil working smarter and more efficiently alongside complementary renewable technologies such as solar PV, solar thermal, heat pumps and biomass.  It's a chance for everyone connected to the oil heating industry to broaden their knowledge; to discover and to discuss future options for off-grid domestic and commercial properties and to watch practical demonstrations which will illustrate how the technologies can work together."
The show's main trade association sponsor is OFTEC; director general Jeremy Hawksley said:  "OFTEC was formed 21 years ago to create technical standards for the oil heating/cooking industry.  Now, the 10,000 plus OFTEC-registered technicians serving this rather unique niche market, have a new mission to  get the low carbon message across to their customers.  The show will help oil installers find the most economic and do-able solutions to assist their customers in this transition period."
Well-known to FON readers as a tank manufacturer, Kingspan Environmental is a main commercial sponsor. Marketing manager, Cheryl Graham, said: "We're delighted to be associated with the Oil & Renewable Energy Show – we'll be launching new products at the event and showcasing the complete Kingspan Environmental product portfolio of traditional and renewable technologies.  We're committed to the development of environmentally friendly products; one being rainwater harvesting, now being retrofitted in many homes and businesses."
"With fuel prices as they are, there has never been a better time to recommend renewable technologies as the perfect partner for oil-fired boilers in off mains gas properties," said Martyn Bridges, director of marketing and technical support for Worcester, Bosch Group.   "We're delighted to be one of the show's key sponsors. Worcester has always been a strong advocate of combining solar thermal panels with oil-fired boilers for the energy efficient provision of hot water. Combined with the prospect of biofuels now on the horizon, those keen to introduce a renewable element to their homes have plenty of choices."
"October's Oil & Renewable Energy Show has already attracted huge support," reports Jonathan Hibbert.  "We're particularly delighted to have a distinguished group of big name sponsors and exhibitors. Their support is testament to the show's national significance."
To find out more about the Oil & Renewable Energy Show, call the team on 01565 653283 or visit
www.oilandrenewableenergyshow.co.uk.