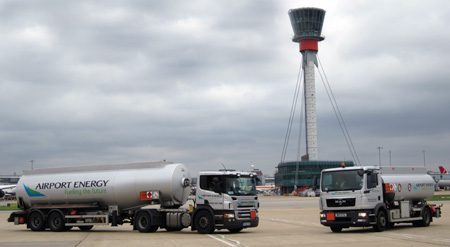 Ask anyone about the fuelling requirements of the world's busiest international airport and the first thing that inevitably comes to mind will be aviation fuel.
Aviation fuel certainly ensures a smooth passage for Heathrow's many hundreds of flights daily; but also vital to the airport's smooth running is fuel for up to 7000 other vehicles which provide essential services – aircraft maintenance, buses to bring in staff, vehicles to push out and tow in planes; machinery to load cargo, handle baggage, empty toilets, clear snow, de-ice wings and stock up with catering supplies.
Recognising the market's potential
Seeing potential in this niche and hitherto difficult to penetrate market, Phil Wright, a former regional manager with Total Butler, said:  "Following redundancy, I met up with David Fairchild (WP Group) to explore the possibilities; he was interested, and together with Neil Donald (former owner of Southern Counties), we set up Airport Energy in 2000.
"At that time, legislation – in particular the updating of the Clean Air Act – meant that all vehicles, including those used on Heathrow now had to meet stringent targets.  As BAA, owners of Heathrow airport, switched to using ultra low sulphur gas oil – we focused on supplying this fuel which at the time was new to the industry and in limited supply."
The company now provides 95% of Heathrow's airside fuel.  Additionally, it manages fuel supply and fuel facilities at Stansted and Edinburgh with fuel also supplied to Gatwick, Manchester, Liverpool, Bournemouth, Glasgow and Aberdeen airports.  Fuel is sourced from Greenergy and Esso with fuel supply to Scottish airports subcontracted to Highland Fuels.
Adding fuel management services
In 2004, Airport Energy Services was created to offer both an airside refuelling service and management services.
"As customers realised the increasing importance of controlling and monitoring fuel usage, we introduced them to FuelOmat from Orpak Systems.  This system guarantees the right fuel in the right vehicle tank using a unique vehicle recognition service (VRS) as well as eliminating unauthorised refuelling.  It also collects and reports a wide variety of data, providing greater control over fleet management.  This initiative has helped BAA and our other airport customers to both save on cost and lessen environmental impact," added Phil, now Airport Energy's managing director.
Working a hard day's night
Fuel Oil News recently toured the company's Heathrow operation which has three fuel stations, 250,000 litres of storage, four tankers and an oil and water truck.
Working airside is operations manager, Craig Heggie:  "A coil is fitted to the filler neck of each vehicle we refuel; this transfers data.  Without a coil in position, our trucks will not dispense fuel.  There are no cards and no keys – customers can just fuel and go, but we can see exactly what's in every vehicle's tank, and we can show customers fuel usage for a single vehicle or a fleet."
Craig is assisted by Alex McAtear, assistant operations manager, and a general manager, Dave Summers, who has recently been appointed.
With its 30,000 workers, Heathrow is a city in itself. "It's a very demanding environment," Craig explained.  "Although our refuelling work starts around 5pm, the bulk is done after 11pm when planes are grounded.  We only stop refuelling when the airport starts moving again around 5am."
Airport Energy has 7 drivers.  "Drivers enjoy being their own boss – with just the night shift schedule detailing vehicles to refuel, they're in charge but – working airside extreme care must be taken to avoid colliding with an aircraft. This seems obvious but it's an extremely hectic environment.
The big fuel consumers
"We try to ensure that no vehicle is left with less than half a tank of fuel.  Big fuel consumers such as the vehicles which push back planes often have to be refuelled every night.  Air starts – used to bump start a plane – can consume up to 70 litres an hour.   When called into action, fuel must be available within four hours to refuel snow ploughs and, having three engines – one to heat the glycol, another to pump and a third to drive – de-icing equipment burns a lot of fuel.
"Another useful aspect of our data capture is that it offers customers  useful comparisons.  For example, when considering the purchase of new equipment such data reveals the most fuel efficient.
"Cargo customers like DHL work through the night so their vehicles are refuelled during an early morning tea break.  Starting at 1.30am, the airport's 70 buses, which each use 200 litres a day, take two hours to refuel.  Each bus used to do a 7-mile round trip to refuel – we cut that wastage by taking fuel to them.
"Eleven years on, this remains a niche market with good steady volumes which peaks in bad weather and during construction work," added Phil.  The company supplied fuel to contractors building terminal 5 and is presently supplying fuel for work to upgrade terminals 1 and 2.