Brad Wilkie, commercial director, comments: "At the UKIFDA EXPO we will be highlighting our 500th sale of OptiMate – an incredible achievement in five years.
"In addition, we have over 350 orders for OptiMate confirmed over the next 18 months – this demonstrates that fuel operatives recognise the benefits that OptiMate brings!"
How does OptiMate benefit fuel operatives?
"No other metering system is proven to deliver more," Brad continues. "OptiMate can offer metered hose, bulk, and fixed gravity deliveries via one metering control system, ensuring the complete protection of your valuable fuel load."
The innovative metering system features a unique self-draining manifold and a range of automatic processes that ensure drivers do not need to return to their vehicle. Line changes or compartment changes can all be performed automatically, either at the OptiMate metering head or at the point of delivery, thereby supporting safer deliveries.
Saving time and money and preventing contamination.
OptiMate is a fully automatic electronic metering system that continues to revolutionise the industry. With 500 units already in service it is a trusted and proven solution that prevents fuel contamination, delivering repeatability, control and efficiency.
Brad and the team are excited for the return of the physical Expo in Liverpool in April: "Since OptiMate was launched, we have listened to our customers and brought new product developments to market. OptiMate is not a standalone solution, it sees continuous investment and design to ensure that it is futureproof.
"Do come and visit us at stand 45 to see what developments we are launching in 2022 and join us as we celebrate 5 years of OptiMate!"
Full details of this year's annual industry Expo can be found here.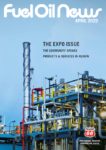 This article originally appeared in the April 2022 issue of Fuel Oil News magazine.
View the magazine